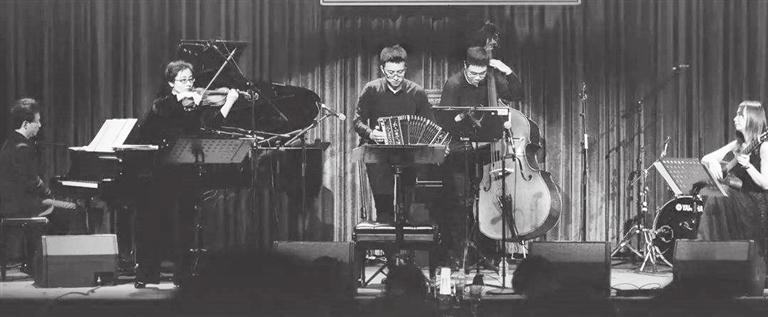 Chinese sextet Our Tango will play a night of Argentine tango composer and bandoneon player Astor Piazzolla's pieces to commemorate the 120th birth year of the master.
The program will include "Buenos Aires Hora Cero," "Concierto Para Quinteto," "Serie del Angel," "Escualo," "Invierno," "Oblivion" and "Libertango."
Piazzolla revolutionized the traditional tango into a new style termed "nuevo tango," incorporating elements from jazz and classical music. A virtuoso bandoneonist, he regularly performed his own compositions with a variety of ensembles. His fusion of tango with this wide range of recognizable Western musical elements was so successful that it produced a new individual style transcending those influences.
"Invierno" ("Winter") is from Piazzolla's "The Four Seasons of Buenos Aires," a set of four tango compositions. The pieces were scored for his quintet of violin, piano, electric guitar, double bass and bandoneon. Piazzolla gives an impression of the four seasons in Buenos Aires, with several references to Vivaldi's famous "The Four Seasons."
His "Seriedel Angel" comprises three movements, "Milonga del Angel" ("Dance of the Angel"), "La Muerte del Angel" ("Death of the Angel") and "Resurrección del Angel" ("Resurrection of the Angel"). "Milonga del Angel" is one of the most lyrical pieces ever written in music, while "La Muerte del Angel" brings rage and violence into the score. "Resurrección del Angel" brings again the lyricism present in the first movement, though this time it is in a more wistful manner.
Time: 8 p.m., Aug. 7
Tickets: 80-280 yuan
Booking: WeChat account "GuangmingArtCenter"
Venue: Guangming Culture and Art Center, Guanguang Road, Guangming District (光明区观光路光明文化艺术中心)
Metro: Line 6 to Fenghuang Town Station (凤凰城站), Exit B(SD News)