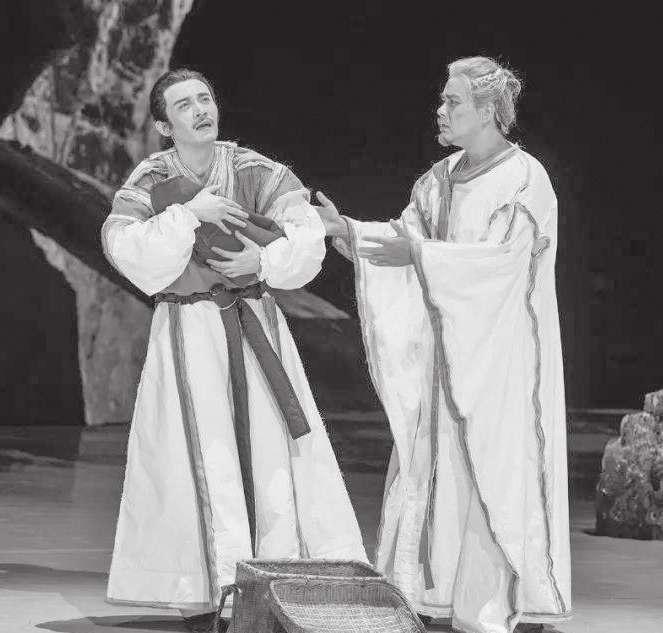 The Chinese musical "The Orphan of Zhao," based on a British theatrical play written by James Fenton, will be staged at the Shenzhen Poly Theater this weekend.
"The Orphan of Zhao" is based on a Chinese historical event 2,600 years ago but several permutations of it have appeared over the years. It first appeared in "Zuo Zhuan," a fifth-century B.C. commentary on the Chinese chronicle "The Spring and Autumn Annals" covering the period from 722 B.C. to 468 B.C.
It was then described by the Han Dynasty (202 B.C.-A.D. 220) historian Sima Qian in his "Records of the Grand Historian." It was later adapted into a play by Ji Junxiang in the Yuan Dynasty (1271-1368) and was regarded as one of the four ancient Chinese tragedies.
The Jesuit priest Joseph Henri Marie de Premare translated Ji's play into French in 1731 and this translation was the basis for various adaptations over the next a few decades in Europe. In 1753, Voltaire wrote "L'Orphelin de la Chine," which debuted in Paris in 1755.
Known in the West as the Chinese "Hamlet," "The Orphan of Zhao" centers on Zhao Shuo, a general who is framed by Tu'an Gu, his political enemy. Tu'an kills Zhao and all his 300 family members except Zhao Shuo's son Zhao Wu, who is hidden and secretly brought up by Zhao Shuo's loyal retainer Cheng Ying. After 20 years the duke decides to rehabilitate Zhao Wu's family and allows Zhao Wu to kill Tu'an to revenge his father's death.
British poet, journalist and literary critic Fenton's adaptation of "The Orphan of Zhao" directed by Gregory Doran premiered with the Royal Shakespeare Company in Stratford-upon-Avon, Britain in 2012 and The Guardian praised it a "superlative production." The musical version to be shown in Shenzhen was directed by Xu Jun and stars musical singer Zheng Qiyuan as Cheng Ying and pop star Ming Dao as Tu'an Gu.
Time: 7:30 p.m., Aug. 13-14; 2:30 p.m., Aug. 15
Tickets: 100-1,280 yuan
Booking: WeChat account "SZpolytheatre"
Venue: Shenzhen Poly Theater, Nanshan District (南山区深圳保利剧院)
Metro: Line 2 or 11 to Houhai Station (后海站), Exit E
(SD News)