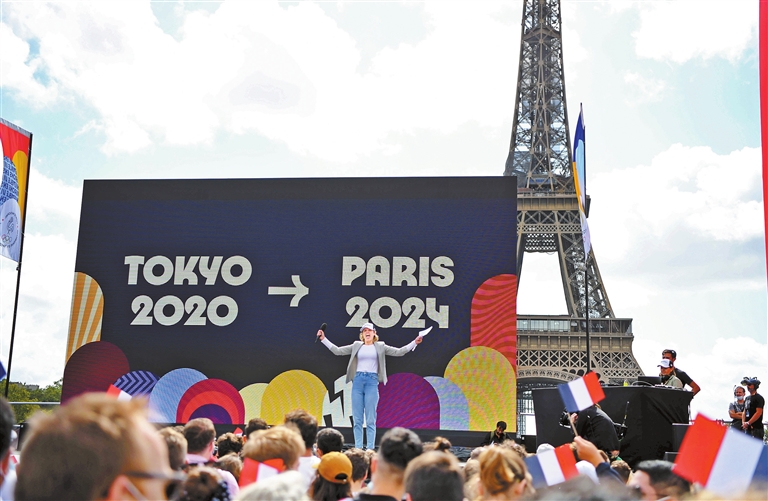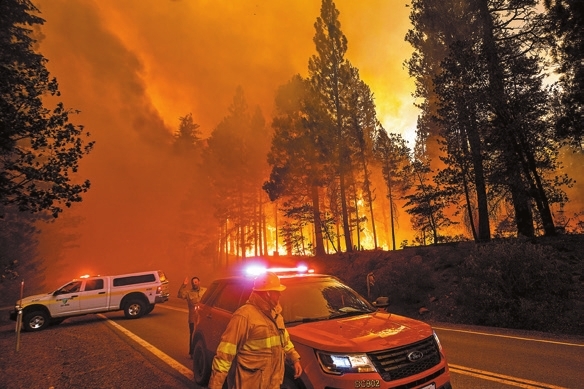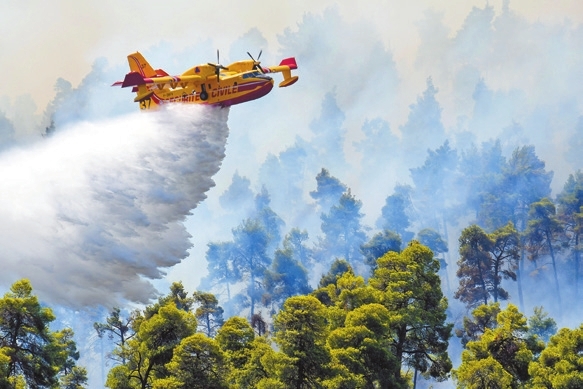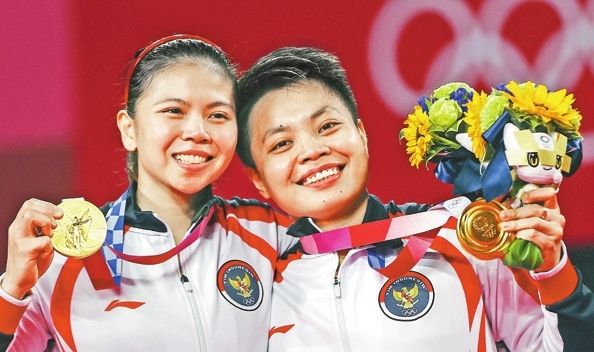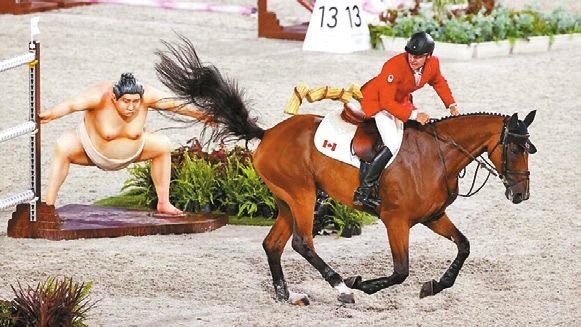 Summer Olympics enter Paris Time
A grand ceremony is held by the Paris 2024 Olympics Organizing Committee and the city government in front of the Eiffel Tower as people gather at Paris' Olympics fan zone to watch the closing ceremony of the Tokyo Games at Trocadero Gardens in Paris, France, on Sunday. The Paris Olympics will take place from July 26 to August 11, 2024.Xinhua
Eight missing as wildfire rages in California
U.S. officials said on Sunday the raging Dixie Fire in northern California is now the second-largest recorded in the state's history, days after the blaze destroyed a historic gold rush town and forced the evacuation of thousands.
So far, no deaths have been attributed to the wildfire but at least eight people were missing as of late Saturday.
State fire officials said the massive wildfire had grown to almost half a million acres as of Sunday morning and was 21 percent contained.
Only last year's August Complex Fire, which consumed more than 1 million acres, was bigger.
Five of the missing belong to the old mining town of Greenville where the fire leveled most of its downtown, about 350 kilometers north of Sacramento.
Greece battles wildfires
Greek authorities ordered more evacuations on an island near Athens on Thursday and battled a blaze near the site of the ancient Olympic Games in the western Peloponnese as wildfires burned for a third day.
Temperatures of more than 40 degrees Celsius and strong winds have fanned more than 150 wildfires in different areas of the country in recent days.
More than a dozen villages have been evacuated on the island of Evia near Athens since early last week, with some 85 people rescued by boat from a beach, as the wildfire scorched pine trees and sent clouds of ash and smoke into the air. Miles away, skies in Athens were darkened.
More than 170 firefighters with 52 engines and six aircraft were operating in the area.
Five cows, a house for winning gold
Five cows, land, an apartment and free coffee for a lifetime are some of the awards that will receive the women's badminton pair of Indonesia who won gold in the Tokyo Olympics.
The Indonesian archipelago, where this racket sport is almost a religion, vibrated on August 3 with the victory of the female duo formed by Apriyani Rahayu and Greysia Polii in the final of the tournament against Chinese couple Chen Qingchen and Jia Yifan. They gave Indonesia its first gold of the Tokyo Games.
The government will award 5,000 million Indonesian rupees (almost US$350,000) to the winners, who will also receive a flat in the capital, a gift from a real estate developer, as well as phones or indefinite magazine subscriptions.
Sumo wrestler statue spooks horses at Tokyo
Equestrian jumpers aren't keen on surprises. Neither are the horses, and it takes years of training to keep them from getting spooked.
Of course, no horse in last Tuesday night's Olympic jumping qualifier had ever seen anything like obstacle No. 10.
"As you come around, you see a big guy's [butt]," British rider Harry Charles said. "There's a lot to look at," Ireland's Cian O'Connor added.
"It is very realistic," echoed Israel's Teddy Vlock. "It does look like a person, and that's a little spooky. You know, horses don't want to see a guy, like, looking intense next to a jump, looking like he's ready to fight you."
UN releases landmark climate report
Climate change is changing Earth in ways that are "unprecedented" in thousands — and in some cases, hundreds of thousands of years, according to a blistering report released by the United Nations on Monday.
The sobering assessment also found that some changes that are already playing out, such as warming oceans and rising sea levels, are "irreversible for centuries to millennia."
The report is the most comprehensive assessment from the U.N.'s Intergovernmental Panel on Climate Change (IPCC) since 2013.
(SD-Agencies)