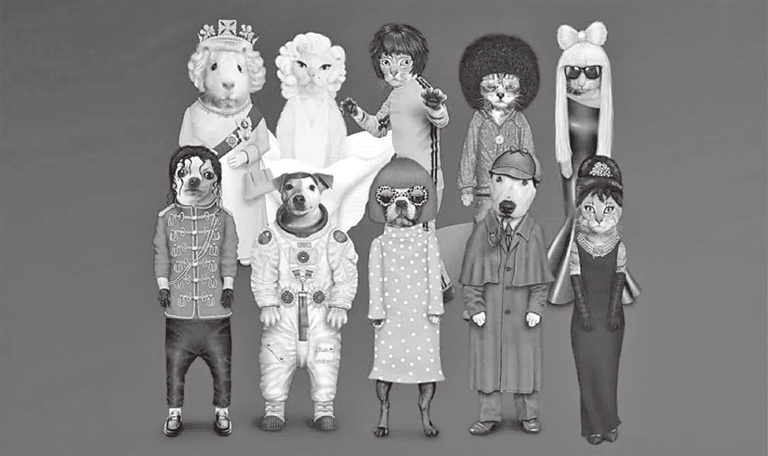 Images, sculptures, toys and installations of Pets Rock's characters are on display at the AVIC City Dreams-On Mall in Huaqiangbei. You may not hear about Pets Rock but when you see its characters, you don't want to miss a chance to take a selfie with those cute and stylish "pets."
The Pets Rock characters are a group of anthropomorphic cats, dogs and guinea pigs dressed as timeless human icons in pop culture, so you will see a graceful cat dressed like Audrey Hepburn in "Breakfast at Tiffany's," a feline Marilyn Monroe in "Gentlemen Prefer Blondes," a dog with Yayoi Kusama's trademark red hair, and a guinea pig dressed like Queen Elizabeth II.
Pets Rock is the creation of Mark and Kate Polyblank from Britain. Mark was a photographer who gave it all up to draw cats in hats and dogs in wigs. Kate was a commercial stylist and now manages the Pets Rock pets.
The old adage that "people look like their pets" combined with their interest in pop culture and their love of animals led to the creation of Pets Rock in 2008.
Since then Pets Rock has developed over 80 characters and won numerous awards. Most importantly, Pets Rock has spread joy and made people around the world smile.
The exhibition at AVIC City Dreams-On Mall is an exciting combination of unique street trend elements and fashionable concepts to bring an immersive and novel experience to the public. Starting from the plaza stairs leading to the mall, consumers can capture photos together with the life-size display cardboards portraying the trendy pet characters, enjoy creative graffiti on the rock container, and appreciate the impressive scale of the installation art in the mall's atrium.
Dates: Until Oct. 7
Venue: AVIC City Dreams-On Mall, Futian District (福田区中航城君尚购物中心)
Metro: Line 1 to Huaqiang Road Station (华强路站), Exit B
(SD News)