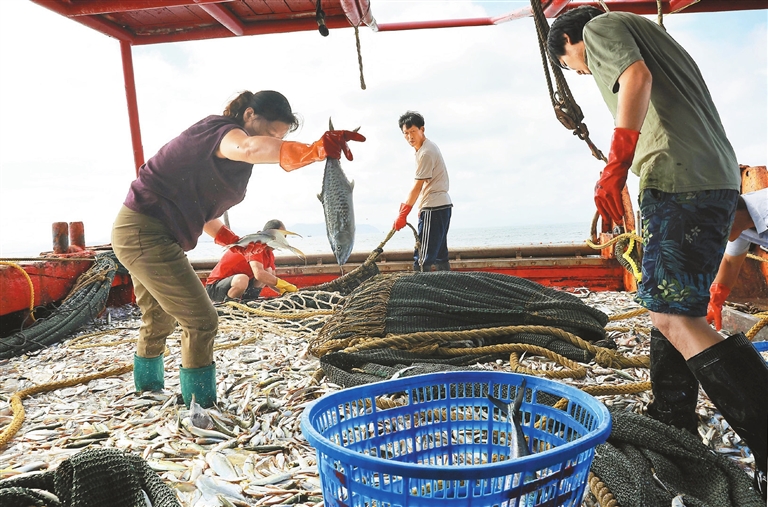 A LARGE number of fishing boats have set off from Shenzhen as the three-and-a-half-month summer fishing moratorium in the South China Sea ended at noon Monday.
On the first day the ban was lifted, fishermen swarmed into the coastal harbors. One of them told a reporter with Shenzhen Evening News, "We have prepared diesel, ice and food to ensure our supply is sufficient for this trip that may take almost one month."
The municipal marine law enforcement brigade distributed brochures on fishing rules among fishermen and conducted safety examinations on more than 30 vessels by 2 p.m. Monday.
Meanwhile, Dapeng Coast Guard has dispatched seven vessels with 26 people patrolling in Dongshan, Baguang and Moon Bay to maintain order and safety at sea.
In addition, the government and experts have called on sailors to keep their distance from an Eden's whale that has been roaming around the Dapeng sea area in the past two months. A temporary control zone has been set up to protect the young whale, affectionately known to Shenzhen residents as "Xiaobu," before the end of the seasonal fishing ban.
As of now, a total of 152 vessels and 517 staffers have been sent to escort "Xiaobu" and 38 unrelated boats have been dissuaded and 1,100 meters of illegal fishing nets have been cleaned up.
China's annual fishing ban aims at protecting the ecosystem and biodiversity from excessive fishing. During the moratorium, the city's marine law enforcement brigade partnered with related departments and sent vessels on 672 patrol trips with 3,362 law enforcement officers, during which five illegal fishing boats were seized and 50,000 meters of illegal fishing nets were removed.
There are 1,729 registered boats in Shenzhen this year. In line with the city's pandemic prevention and control measures, fishermen are required to be fully vaccinated and present a negative nucleic acid test result taken within 48 hours before sailing out.
(Xia Yuanjie)