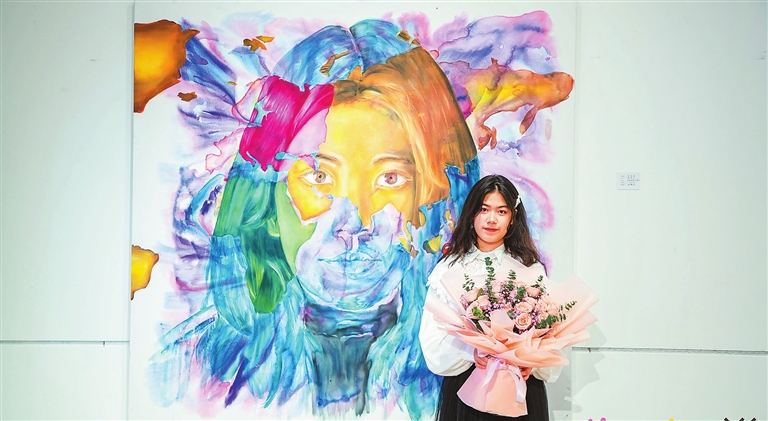 Lin Songtao
254238712@qq.com
Nowadays, learning art such as painting is common for children, but it's still rare that one can hold an exhibition when one is a student. Zhou Linzi, a Shenzhen-born teenager, is such a rarity.
She recently held a solo exhibition titled "The East to the West" at the Sea World Culture and Arts Center in Nanshan, Shenzhen. The exhibition featured her paintings as well as installations.
"It was very strange that, when I was a little girl, if I was given a paintbrush, I would stop crying, and sometimes I would even paint for almost a whole day. Later on, my mother thought it was natural for me to learn painting," said Zhou.
From kindergarten she started learning Eastern-style paintings such as traditional Chinese painting and gongbi painting. She later learned oil painting as well as woodblock painting when studying in junior high school. The 16-year-old painter is now a senior high school student in Switzerland. "I chose subjects like visual arts at school," she said.
Talking about her inspiration for art creation, the painter said that she is mainly inspired by daily objects.
She took one of her paintings named "Guanyin and Cold Brew" as an example. "I draw it by chance. That day I went to buy a cup of coffee and also bought a little bit of ground coffee," she said.
"I originally wanted to use the used coffee grounds as flower fertilizer. But when I passed through the garden to draw, my teacher said the used coffee grounds could be used to do something. I followed his thoughts to think about how to draw a painting by using it. Finally, the painting was finished with white latex and used coffee grounds."
An installation with Buddhist elements but shaped like a vinyl record was shown at the exhibition. "I love traditional Chinese elements, especially the Buddhist art at Mogao Grottoes in Dunhuang, Gansu Province," said Zhou, who also designed a set of hanfu and cheongsam, and brought them to Switzerland, where she often wears them to show them to her foreign friends.
She said that she has always wanted to visit the Forbidden Palace in Beijing and have a look at the empresses' coronets. "I want to study how to do the filigree inlay, which is a technique used on the coronets," she said.
The young painter thinks learning art is a gradual process of understanding, and hopes to create her own style in the coming days. "Currently I still rely on my teacher to create my works. But I am also trying to find my own characteristics," she said.
Zhou said her family will continue to support her in her pursuit of art. "But for me, there were times that I got confused, because I was afraid that it may be difficult to find a job as an artist. I will see how far I would go on this path, depending on the changing situations."
The young artist said she may go to a U.S. university to study costume design in the future.