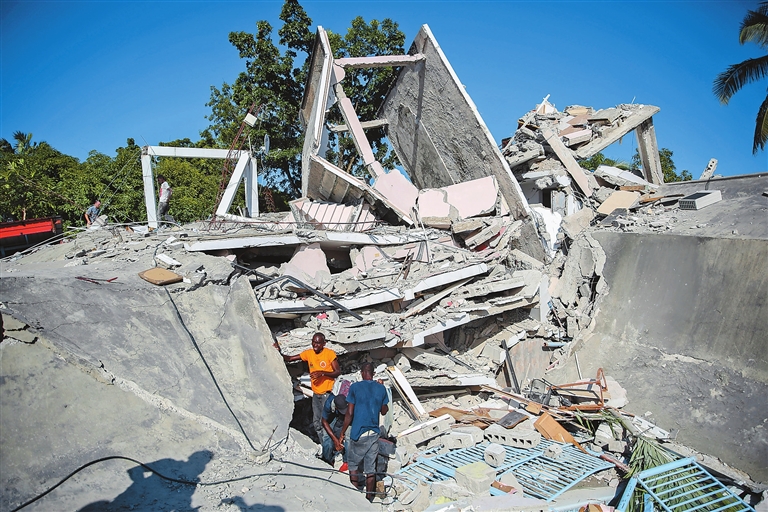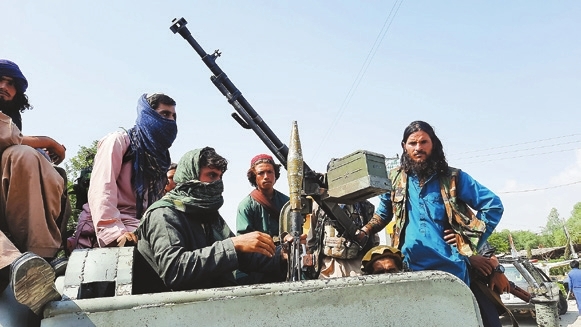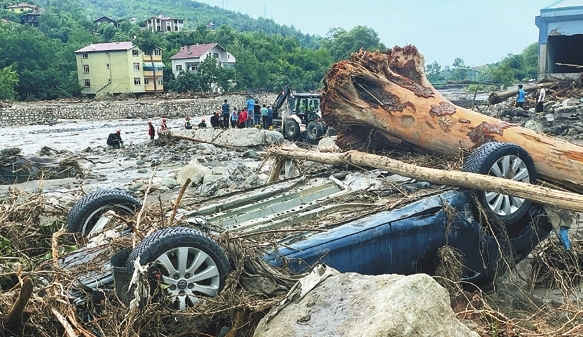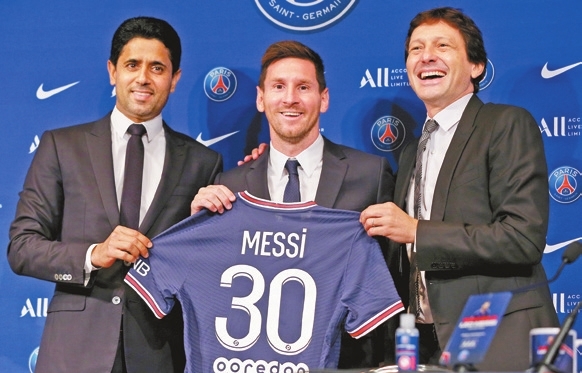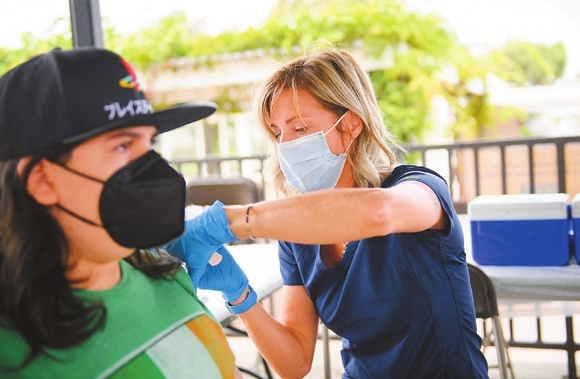 Quake adds to Haiti's misery
Damage is seen in an area after a major earthquake struck southwestern Haiti in Les Cayes on Saturday. A powerful magnitude 7.2 earthquake added to the misery in Haiti on Saturday, killing at least 1,297 people, injuring a minimum of 5,700 others and destroying hundreds of homes. Xinhua
Countries react as
Taliban enter Kabul
Countries and international organizations closely observing the unfolding situation in Afghanistan have swiftly reacted to Taliban forces entering the capital Kabul on Sunday.
The U.S. State Department and the Pentagon issued a joint statement, saying, "At present we are completing a series of steps to secure the Hamid Karzai International Airport to enable the safe departure of U.S. and allied personnel from Afghanistan via civilian and military flights."
According to a press release issued on Sunday, U.N. Secretary-General Antonio Guterres is following the rapidly evolving situation in Afghanistan, and urges the Taliban and all other parties to exercise utmost restraint to protect lives and ensure that humanitarian needs can be addressed.
Turkish flood deaths hit 57
The death toll from severe floods and mudslides along Turkey's Black Sea coast has climbed to at least 57, the country's emergency and disaster agency said on Saturday, as authorities disputed reports that dozens more people were missing.
Torrential rains that pounded the Black Sea provinces of Bartin, Kastamonu and Sinop on August 11 caused flooding that demolished homes, severed at least five bridges, swept away cars and rendered numerous roads unpassable. Turkish disaster agency AFAD said 48 people were killed in Kastamonu, eight in Sinop and one in Bartin. Eight people remained hospitalized.
Speaking on late Saturday in Kastamonu, Interior Minister Suleyman Soylu said 15 of the dead had not been identified yet. He slammed opposition parties, social media users and media for claims that hundreds could be missing.
Messi says he's 'very happy' at PSG
Lionel Messi said he's been enjoying his time in Paris "since the first minute" after he signed his Paris Saint-Germain (PSG) contract on the night of August 10.
The 34-year-old Argentina star signed a two-year deal with the option for a third season after leaving Barcelona.
"It was a difficult change after so much time, but the moment I arrived here I felt very happy," Messi said at his introductory news conference at Parc des Princes stadium.
Messi's arrival gives PSG formidable attacking options as he links up with France World Cup winner Kylian Mbappe and Brazil forward Neymar.
California teachers to be fully vaccinated
California Governor Gavin Newsom announced last week the most populous state in the United States will implement first-in-the-nation measure to require all teachers and school staff to get vaccinated as schools return from summer break.
Newsom noted in a news conference at a Northern California school that "this is the right thing to do."
"We think this is a sustainable way to keeping our schools open, and to address the number one anxiety that parents like myself have for young children," said the governor.
Malaysian PM
Muhyiddin quits
Malaysia's prime minister resigned and his government collapsed on Monday after just 17 months in office, throwing the country into fresh political turmoil.
Muhyiddin Yassin's tumultuous period in office came to an end after allies withdrew support, and he became the shortest-serving premier in Malaysian history.
With an election unlikely and no obvious successor on the horizon, Malaysia is set for a period of intense political horse-trading before a workable coalition takes shape.
Muhyiddin has claimed that several MPs who pulled support from his coalition had been angered that he refused to get corruption cases against them dropped. (SD-Agencies)