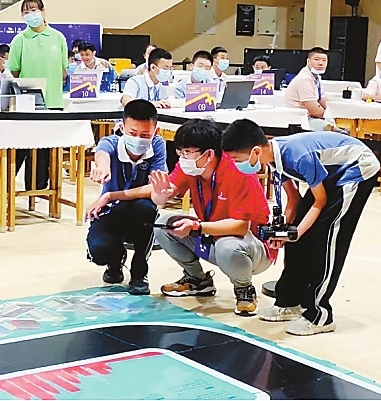 Nine teams of primary and middle school students from Nanshan District won prizes at a national AI contest held between July 28 and 31 in Wuyuan, East China's Jiangxi Province. They won three first prizes, four second prizes and two third prizes.
Approved by the Ministry of Education and sponsored by the nonprofit China Next Generation Education Foundation, the event attracted more than 4,000 primary and middle school students from across China to participate in both online display and offline competitions. The entrants competed in 14 groups in four big categories: basic AI algorithm, open-source AI hardware, AI robotics, and AI application tools.
The Shenyi Team from High-tech Park Middle School of Nanshan Foreign Language School Group, consisting of Chen Chen and Huang Zaihou with Zhang Yang as their tutor, won first prize in the "AI Facilitates Life" group.
Xiao Boyang and Gao Yuan, tutored by Yuan Lan and CaiJingliang from No. 2 Yucai Middle School, won first prize in the "Intelligent Pilot" group. The contestants were graded in terms of model vehicle design, road sign detection, road lane detection and time used in completing the race. The two students beat 43 teams in the group to win first place.
Hu Jiamao and Zhang Mingwei, guided by Li Yonghui from Tongle Experimental School, also won first prize in AI driving.
The China Next Generation Education Foundation launched the "Teens Silicon Valley" project back in October 2016, and has since trained more than 3,000 science teachers in 18 less developed provinces and regions across China.
This year's competition was aimed to provide an arena and platform for students to compete and display their learning results and creativity in exploring cutting-edge science and technology. (Li Dan)