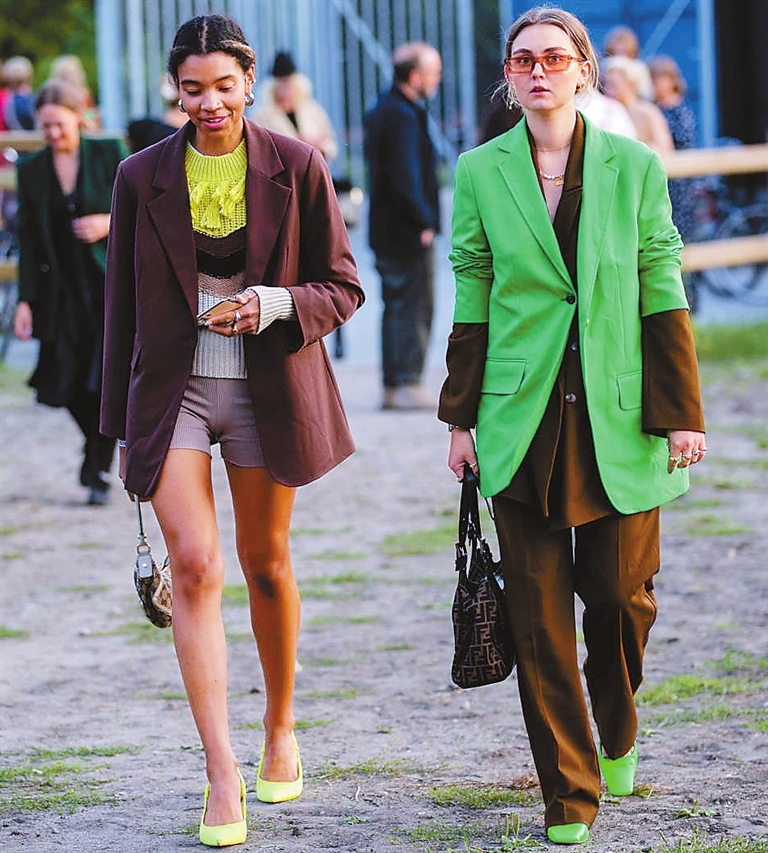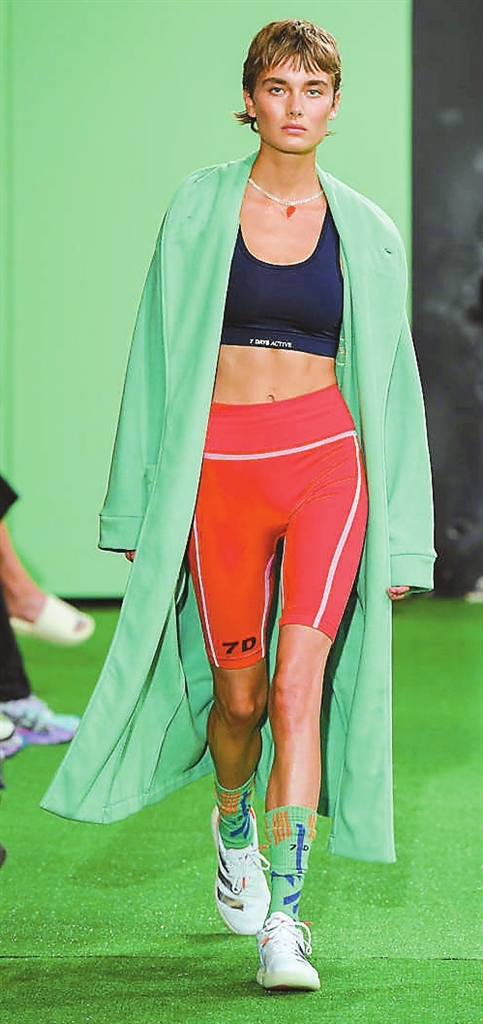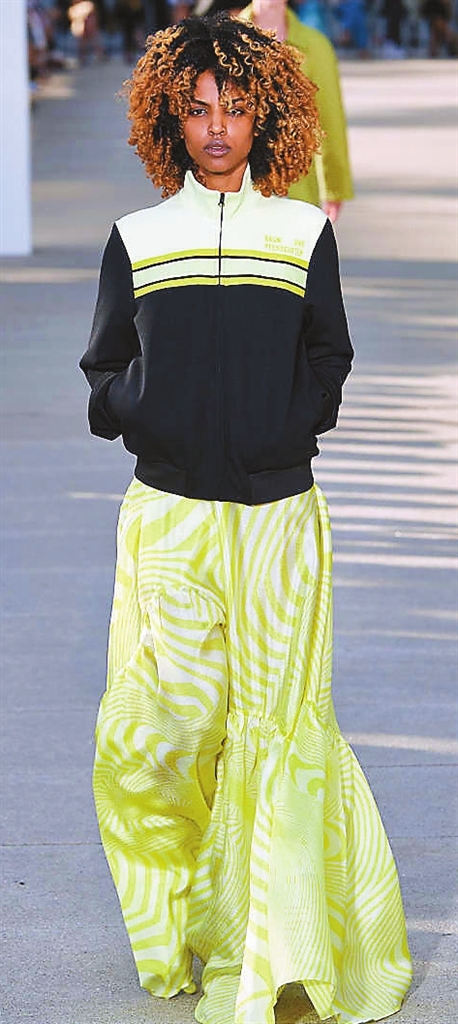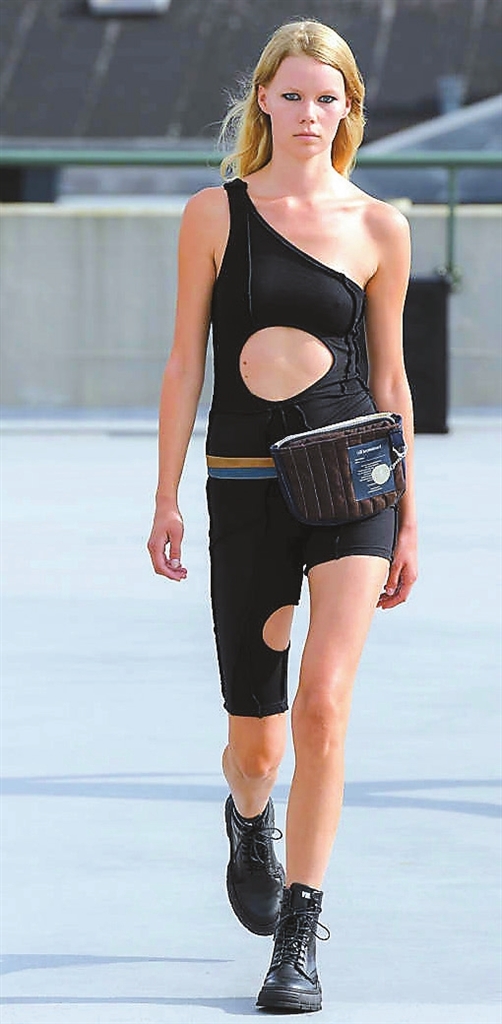 COPENHAGEN Fashion Week (CPHFW) is setting the tone for the fashion month to come and we're all in for a big treat this season. The Spring/Summer 2022 season is the first one returning to in-person shows. From the designer collections to the colorful and whimsical Copenhagen street style, no time was wasted getting back into the swing of things.
The three-day event was rife with major fashion moments. Knitwear designer A. Roege Hove debuted her sixth collection for the first time in a runway show. Saks Potts showed their latest collection at iconic Danish architect Arne Jacobsen's home in Charlottenlund. And hometown superstars, Ganni, presented its spring-summer collection on top of Copenhagen's largest green power plant/artificial ski slope.
While the bounds of creative ideas and designs are endless for Scandinavia's brightest designers, CPHFW is also getting creative with how they approach and enforce sustainability. CEO of CPHFW Cecilie Thorsmark announced the event's latest sustainability action plan that details new standards that all brands must follow to be able to present their collections at the fashion week. A few of those guidelines are that 50 percent of materials used in the collection must be certified organic, upcycled, recycled, not destroying unsold clothing, and repurposing samples. As for the actual in-person runway shows, there's zero waste in the set design and no single-use plastic backstage.
Copenhagen's fashion footprint has always had a lasting impression of being quirky, colorful, and trend-focused; and every year, the designers display their mastery of understanding what people want to wear and simultaneously how to have loads of fun while doing it.
Here we present you a few trends at CPHFW.
Athleisure
At this point, athleisure has become such a mainstay in our wardrobes that the term almost no longer carries any significance. While sweatpants and leggings are an inevitable part of our fashion vocabulary, CPHFW proved that athletic clothing is reaching its next step in the style evolution.
For Baum und Pferdgarten, it's all about how you style and integrate athletic pieces into your everyday life. Throw a zip polo sweater over a neon maxi dress or leggings with metallic shorts and a classic blazer on top. For 7 Days Active, a fresh new label started in 2019, however, activewear means looking at actual athletes for inspiration. There's no shying away from color and the designs ask us to consider blurring the lines between functionality and aesthetics.
Vests
While some may consider vests a superfluous article of clothing, the growing popularity of sweater vests has most people reconsidering their stance. The beauty of vests resides in the fact that there's a vest out there for everyone and every occasion. Think cargo vests for the outdoorsy crowd, puffer vests for those who love streetwear, and sweater vests for knitwear lovers.
This season, the CPHFW runways saw an influx of unconventional vests. From Saks Potts' V-neck tweed hunting vest to Rotate's mechanic-friendly biker cropped vest, if there were any doubts, now we can truly say there really is a vest for everyone.
Good greens
Ranging from sharp Kelly greens to sophisticated chartreuses, the color green is getting a long-overdue rebrand. Bottega Veneta could account for the color's latest resurgence, but various designers are offering their own interpretations as well.
Green is a clean, crisp color that looks good regardless of its iterations. Soren Le Schmidt's collection had a series of Kelly green tailoring that urged you to throw out all of your black blazers and replace them with his offerings. Meanwhile, celeb-approved Stine Goya sent through sequin chartreuse dresses down that runway that seemed to shout, "Hello! I'm here! Let's party!"
The perfect jacket
What makes the "perfect" jacket? Perhaps it's the versatility of being able to act as a transitional outerwear piece for both fall and spring. Or, maybe it is the statement-making factor — whether it be via bright colors or large lapels.
This season, designers at CPHFW put their own opinions forth regarding what the perfect jacket entails. For Remain, it means matching your heavy-duty, bright orange trench coat to your pants. Lovechild 1979 says that the perfect jacket is all about quality — about excellent leatherwork and impeccable stitching. Truly, the perfect jacket is whatever it means to you; just make sure to stay patient and take the time to find yours with all the inspiration CPHFW provided. (SD-Agencies)