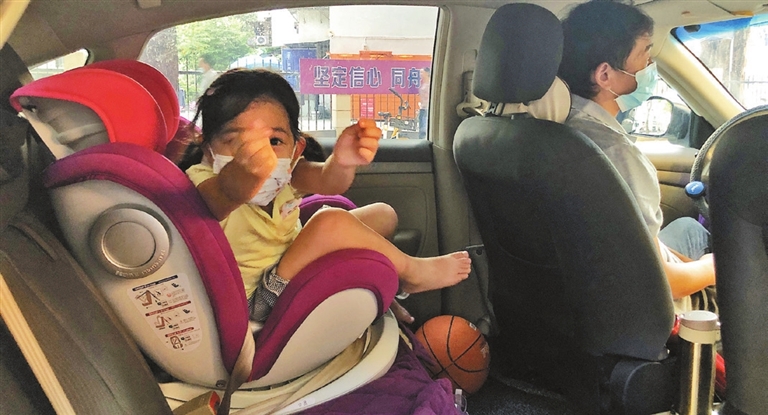 A SHORT video, showing a single father who takes his 4-year-old daughter to his work as an app-based cab driver, has touched countless people.
Shenzhen Evening News recently interviewed the father, who is living and working in Shenzhen.
The man, under pseudonym Wang Youde, was crippled by polio in his left leg as a child. He used to drive cabs in his hometown, Shenyang in Liaoning Province. In 2019, he came to Shenzhen to run a kitchenware foreign trade business, using his earnings plus bank loans. However, the COVID-19 pandemic seriously affected the foreign trade business. Wang lost all his investments and within half a year, he was mired in debt.
In order to pay off his debts, Wang first found a job as a residential community security guard and then a deliveryman. He saved up every yuan he made and finally, he got sufficient funds for the deposit of driving on car-hailing platforms.
Before this summer vacation, he brought his daughter Xiaoxiao to Shenzhen and they have been inseparable since then.
"I mean everything to Xiaoxiao, and she means everything to me, after I separated from my wife," said Wang. "Sometimes, she would say that she missed her mother, but she comforted me immediately when she found me sad and sorry."
Xiaoxiao has brought a lot of happiness and energy to Wang's daily life. "When I told her that I felt tired and needed a nap. She would pat on my back," said Wang. One time, Wang received a parking ticket on his car and the fine rendered his day's efforts in vain. His little girl encouraged him, saying "It's all right daddy, let's keep working hard."
Most passengers understood Wang's situation and many played with Xiaoxiao. Some sent her candies or snacks. Once, he saw his daughter holding a 100-yuan (US$15.4) bill given by a warm-hearted passenger. He tried to return the money but was unable to reach the person. A netizen from Yangzhou even sent Wang a child safety seat as a gift, which touched him greatly. Wang is extremely grateful to other people's help and support.
Wang said he takes Xiaoxiao to work since he cannot manage to send her to a kindergarten yet, which is his biggest concern. In spite of these hardships, for Xiaoxiao, home is the place wherever her father is.
(Xia Yuanjie)