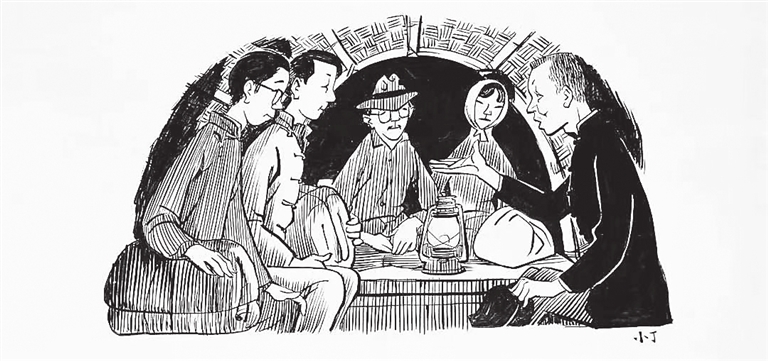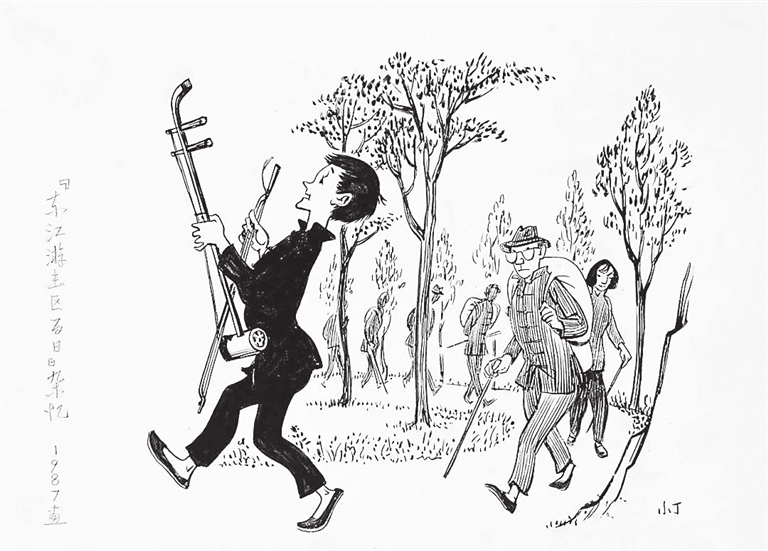 Chinese master Ding Cong's caricatures related to the 1941 rescue of 800 patriotic intellectuals during the Chinese People's War of Resistance Against Japanese Aggression are on display at the Dongjiang Column Memorial Hall.
In December 1941, Hong Kong was occupied by Japanese invaders, stranding more than 800 patriotic intellectuals there, including Ding, painter He Xiangning and journalist Zou Taofen. The Guangdong People's Guerrilla Force Against Japanese Aggression led by the Communist Party of China (CPC) then helped those people return to the Chinese mainland. A church in Baishilong in today's Longhua District in Shenzhen was the first stop for the rescued intellectuals.
In 1987, Ding (1916-2009) created a 10-piece caricature series about this rescue experience, exhibited them at the Shenzhen Art Museum in 1994 and later donated them to the museum. Optimism is reflected in Ding's vivid and witty caricatures. The rescue embodies the CPC's care for intellectuals and the guerrillas' brave spirit. More information on the rescue and photos are also on display.
The Dongjiang Column Memorial Hall was built in 2000 to display historical documents, photos and veterans' paraphernalia. The hall is near the old residence of Zeng Sheng, commander of Dongjiang Column of Guangdong People's Guerilla Force Against Japanese Aggression. Zeng joined the CPC in 1936 and made great contributions to the victory in the South China battlefield. The Dongjiang Column and its predecessor Dongjiang Guerrilla Force had participated in more than 1,400 battles from 1938 to 1945.
Dates: Until Oct. 7
Hours: 9 a.m.-noon, 2-5:30 p.m., closed Mondays
Booking: WeChat "djzdjng"
Venue: Dongjiang Column Memorial Hall, Pingshan District (坪山区东江纵队纪念馆)
Transport: Take the high-speed rail from Shenzhen North Station to Pingshan Station and then take a taxi(SD News)