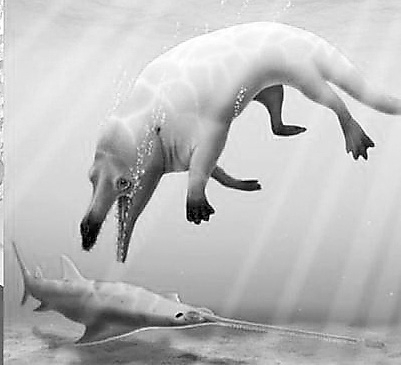 PALEONTOLOGISTS have uncovered the fossil of a four-legged whale in what used to be an ancient sea bed. The new species has been discovered among rocks in Egypt's Western Desert's Fayum Depression that was once flooded.
The remains are estimated to be 43 million years old. According to 9News, after researching the fossil at Mansoura University's Vertebrate Palaeontology Center, experts concluded that the new species, named Phiomicetus Anubis after the Egyptian "god of death," was most likely a top predator.
According to a report published in the journal Proceedings of the Royal Society B, it was likely semi-aquatic and could migrate between land and sea. The biologists say that the species represents an essential milestone in early whale evolution. The whale was estimated to be 3 meters long with a body mass of 600 kilograms.
Hesham Sallam, the founder of Mansoura University's Vertebrate Paleontology Centre, posted on Twitter, "Our new paper documents a new ancient amphibious four-legged cetacean from Egypt, which elucidates a transitional phase in early whale evolution."
Crocodiles and small mammals, as well as the offspring of other whales, would have been among the creature's prey. Abdullah Gohar, a graduate student from Mansoura University, said that it was an effective, active predator. He believes it was the "god of death" for most of the creatures that lived around.
The species was discovered in the Kuldana Formation in northern Pakistan and lived between 56 million and 41 million years ago, according to Daily Express. According to paleontologists, it would have been a transitional stage between terrestrial and aquatic whales. The finding of the Phiomicetus Anubis adds to the knowledge of the evolution of whales.
(SD-Agencies)