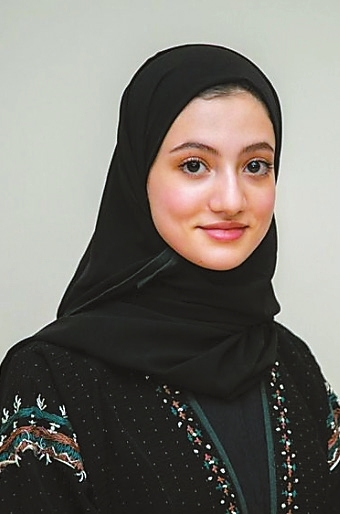 An 18-year-old from Riyadh, Saudi Arabia, with keen focus on doing good and helping others has created a video game tool to help diagnose teenagers with generalized anxiety disorder (GAD).
Rasha Alqahtani's ambitious proposal — inspired, in part, by personal experience with the stressors of the pandemic — has been accepted as a screener for a personal disorder, anxiety, according to a report from the U.S.-based Smithsonian magazine.
Alqahtani began researching her prizewinning project last year as a participant in Mawhiba, a national STEM program for gifted-and-talented students in Saudi Arabia, and won a behavioral science award in this year's Regeneron International Science and Engineering Fair.
This is an annual competition for ninth through 12th graders administered by the Society for Science in Washington, D.C., the United States. Her prototype aims to address the problems of stigma and inaccessibility that, psychologists say, present substantial roadblocks to teens getting mental health care.
In addition to her STEM research, Alqahtani is a poet and artist. She is determined to help her peers learn about their anxiety — in the wildly popular setting of "Minecraft." Alqahtani recounts how she wanted to work toward something that would genuinely help people in her generation.
She'd seen anxiety affect the lives of people around her — a family member, a "genius" schoolmate who'd cry and hyperventilate with each test, and strangers in TikTok confessionals. To some extent, she struggled with it herself, as "a straight-A student trying to keep perfection."
"I tried to heal myself, by myself, almost all of the time," she said. "In Saudi Arabia, we are starting now to connect the dots and to raise awareness about mental health. Going to a psychologist still has a negative effect on a person in society," Alqahtani said.
Alqahtani resolved to do something about the anxiety she'd noticed around her, and the sense that taking the immediate step of going to a psychologist might daunt some teens. Research bore out her observations: The World Health Organization (WHO) reports that anxiety is in the top 10 causes of teen illness and disability.
"I would just tear up to live in 'Minecraft' for a day. I really love it," she said. So as the pandemic made her and so many others feel anxious, she proposed a research project for a Mawhiba program that would use the familiar, fun format of a video game to evaluate players for GAD.
Rather than the daunting task of building a full-blown game from scratch, Alqahtani set her sights on what she calls a "feature," a module that users would access within a preexisting video game. For the purposes of the prototype, she didn't actually code the feature but instead produced a video simulation of what it would look like within the game of "Minecraft."
Alqahtani drew on one of her hobbies — she makes short films — and created a video that looked like "Minecraft: Story Mode," in which players choose their own adventures by indicating how they'd like to respond to various scenarios.
In Alqahtani's version, instead of deciding which character to save from a monstrous enemy, users choose how they'd react in different, potentially anxiety provoking scenarios. In scoring the assessment, a higher score, after completing 13 of these questions, should indicate higher anxiety levels.
To develop the different scenarios, Alqahtani adapted a psychometric from the 1950s, the Taylor Manifest Anxiety Scale, the first internationally utilized measurement of someone's tendency towards anxiousness.
She found the stilted true/false statements of the TMAS — like "At times I am so restless that I cannot sit in a chair for very long" — hard to conceptualize, so she adapted them into "Minecraft" scenarios.
She surveyed more than 500 peers about their willingness to get a psychological assessment online, and then guided 35 female participants through the game demo on Zoom and logged their answers.
Ultimately, her analysis showed that the video-game-scenario results corresponded with those of the actual TMAS; people's scores on one measure resembled their scores on the other.
Alqahtani's innovative test could become part of the cutting-edge field of digital therapeutics operating at the intersection of psychology and technology. At King Saud University, her first-choice school, she intends to major in software or biomedical engineering. She plans to add multiple different metrics of anxiety to her game feature to make its assessment more complete.(SD-Agencies)