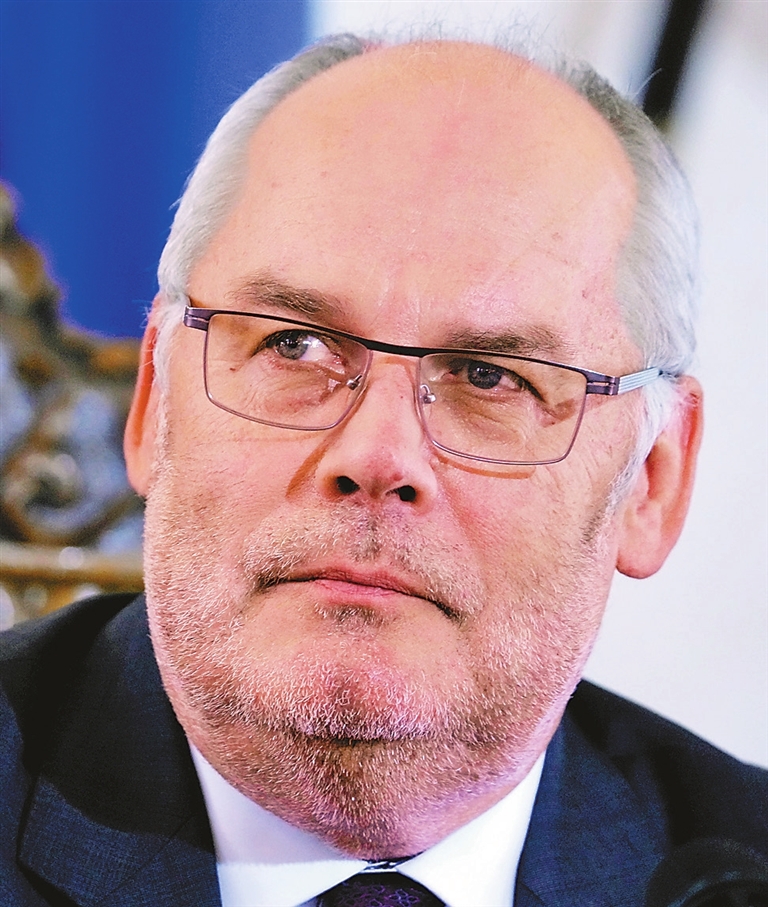 ESTONIA has found its new president in a place far outside the political arena — the art world.
Alar Karis, director of the Estonian National Museum in Tartu, has been elected to lead the country, after he was backed by two-thirds of lawmakers in a second round of voting Tuesday.
Karis, 63, was the sole candidate for the role, a situation unprecedented since the small Baltic nation regained its independence 30 years ago.
He was named the winner with 72 out of the 101 votes in the Riigikogu parliament. In the first round of voting Monday, he was unable to gain the required two-thirds of the members of parliament needed to confirm.
When Karis takes office Oct. 11, he will be Estonia's sixth president, replacing Kersti Kaljulaid, the current president and first female head of state whose five-year term expires Oct. 10.
Under Estonia's constitution, the president's role is mostly representing the nation abroad and acting as a domestic opinion leader. However, the president is also the supreme commander of Estonia's armed forces, formally appoints government members, signs laws to make them valid and has the power to veto law proposals.
"I would like to thank everyone who voted for me, as well as those who did not," Karis said in a statement. "I promise to be a good partner to the Riigikogu. Thank you very much."
Speaking at a press conference after the election, Karis said: "I will try to communicate with all political forces and find a way for Estonia to develop further."
He also said that Estonia needs to address both domestic and foreign policy, adding that he will also follow the example set by his predecessors.
Karis had announced his plans to campaign for the post just weeks ago, and was initially endorsed by Estonia's Prime Minister Kaja Kallas and her Reform Party as well as the Center Party, which make up the center-right coalition that is in control of the government. Karis was then endorsed by both the Social Democrats and the more conservative Fatherland party Tuesday, allowing him to receive enough votes to secure the role.
Karis, a former state auditor, is the only one who has managed to get support from the required minimum of 21 lawmakers.
Holding a vote with only one candidate has flummoxed the country, and several politicians have called for a complete overhaul of Estonia's complex presidential election system. Some Estonians have even suggested that the small European nation, where the prime minister holds most political power, should abolish the head of state post altogether.
Once a Soviet republic, Estonia, a nation of 1.3 million, regained its independence in 1991 and is now a member of both the European Union and North Atlantic Treaty Organization (NATO).
Had the president been directly elected by the people, the liberal Kaljulaid would be seeking a second term. Estonia's first female president is reasonably popular among the public. But she enjoys little support from lawmakers, reportedly due to her outspokenness about fellow politicians and government policies.
Both the Reform Party and the Center Party have praised Karis for his understanding of Estonia's society, and see his academic background, who headed the University of Tartu, Estonia's main academic institution, and work as an auditor as substantial strengths.
Tonis Sarts, an associate professor in comparative politics at Tallinn University, agrees with the assessment but noted that Karis is a novice in foreign policy.
"He is probably one of the most well-prepared candidates considering the domestic policy dimension but he hasn't had any practical experience in foreign policy-making and diplomacy," Sarts said.
Karis is an Estonian citizen by birth, a native of Tartu, the second-largest city in Estonia.
He is an Estonian molecular geneticist and developmental biologist who embarked on an academic career after graduating from the veterinary department of the Estonian University of Life Sciences in Tartu, and became a professor there in 1999, according to reports of the Estonian Public Broadcasting.
He served as rector at the Estonian University of Life Sciences from 2003 to 2007, and as rector of the University of Tartu from 2007 to 2012.
He was appointed Estonia's auditor general in March 2013 and, after completing his tenure, became director of the Estonian National Museum in October 2017, which hosts exhibitions and facilitates research focused on everyday life in the country, the Estonian diaspora, and Finno-Ugric cultures.
He led a delegation to visit the Southeast University of China in Nanjing, capital of Jiangsu Province, in 2010 when he was the rector of the University of Tartu. Prior to his campaign for president, Karis had not served in Estonia's Parliament.
In an earlier interview with ERR, the Estonian national broadcaster, on what direction the next president should take Estonia in, he said: "Estonia should be a smart and educated nation. Perhaps we should set ourselves the goal that the Estonian state could be the country with the most educated people. Not just to move into the top five educated nations, but to be number one in the world."
He holds the view that Estonians must remain the majority in Estonia, and that Estonia must move towards an Estonian-language education system."
Karis said changing the entire system to the Estonian language overnight is neither reasonable nor possible. "We can't say that we will start teaching in Estonian overnight, knowing that there is a shortage of teachers, the environment is not favorable, there is a lack of motivation. These things have to be solved," he said.
Foreign policy is a key area for the president and there have been concerns that Karis has little experience in this area.
He said he would be happy to follow Kaljulaid's foreign policy and learn on the job with a good team of advisers. Karis acknowledged that "security policy and foreign policy in today's world are very important for Estonia."
Karis said Estonia needs to keep an eye on how the EU is changing, the direction it is moving in and new trends. He said Estonia could speak up more.
"It is in our interest for the European Union to survive. That we have such a place where we feel safe. We do not have many alternatives," he said.
Karis has said he would refuse to proclaim a law repealing the Registered Partnership Act if there were legal arguments to declare it unconstitutional.
The Registered Partnership Act, also known colloquially as the cohabitation act, entered into force in 2016. It legally recognizes couples who are cohabiting, including same-sex couples. However, it has not been put fully into effect as implementing legislation has not been passed by the Riigikogu. Some parties want the act to be repealed.
Karis has received the coronavirus vaccination and is in favor of vaccination. But he said a balance needs to be struck between public health and civil liberties.
Karis said a discussion is needed as soon as possible if the presidential election system is to be amended.
"Whoever becomes president should end the debate. This must be negotiated now, not when the next election is on the doorstep," Karis said. But he added he did not dislike the current system and said it was constitutional. He said what devalues ​​it now is that the process is discussed more than the candidates.
Located in northeastern Europe, Estonia's area includes some 1,500 islands and islets.
Estonia has been dominated by foreign powers through much of its history.
The country remained a Soviet republic until 1991, when, along with the other Baltic states, it declared its independence.
Its official language is a member of the Finno-Ugric branch of the Uralic language family. More than two-thirds of the populace speak Estonian as a first language. About an additional one-fourth speak Russian as their first language (mostly in the northeast), though few Estonians over age 60 or under age 20 speak the language.
Education is conducted primarily in Estonian, but Russian continues to be the language of instruction in a number of schools.
In 1999 Estonia joined the World Trade Organization and in 2004 it became a full member of both the NATO and European Union.
(SD-Agencies)