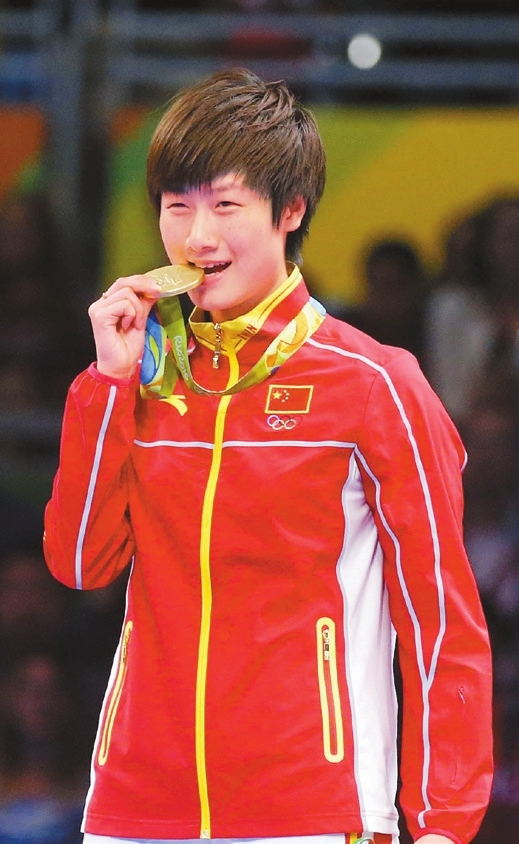 CHINESE table tennis star Ding Ning announced her retirement yesterday and will pursue her master's degree in the prestigious Peking University.
"I'm 'student Ning' of the Peking University now. Hopefully, I can continue to contribute to the sports cause. My career as a table tennis player has curtained down today, and I will work hard for new dreams and challenge new possibilities in the future," the 21-time world champion wrote on the Twitter-like platform of Weibo.
Ding also posted three photos representing her different stages: starting to play table tennis at the age of five, holding the gold medal at the Rio Olympic Games award ceremony and registering at the Peking University with a letter of admission in hand.
Ding received good wishes and encouragement from members of the Chinese team.
"Ding had a successful career while undergoing some setbacks as well. Her resistance against these setbacks has helped her overcome difficulties and realize her dreams. This is her biggest characteristic on the court," said Liu Guoliang, president of the Chinese table tennis association (CTTA) and a prominent figure of the sport.
Liu said that, as the women's team captain, Ding has set a good example for young players. "She can pass on the energy of table tennis and showcase her value, not only within the team or sports but also in Chinese sports and the whole society. She has that potential," said Liu.
Ding took up table tennis in 1996, before being recruited to the Chinese national junior team in 2003 and then the senior team in 2005.
She completed a Grand Slam of titles in 2016 after winning the Rio Olympics gold medal. She was appointed the captain of the Chinese women's team in February 2017. (Xinhua)