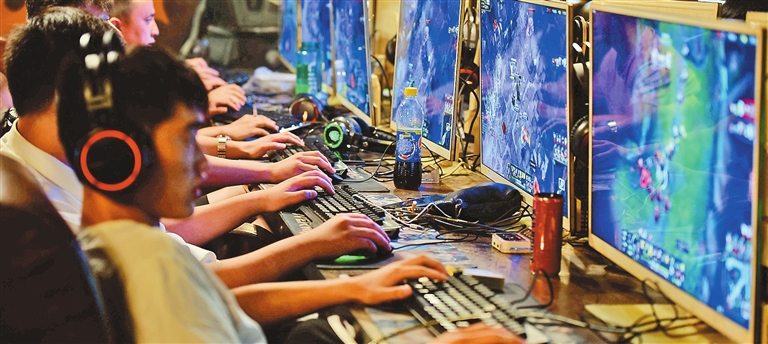 EACH generation of children has their popular games, be it a football match in the playground or jigsaw puzzle. As digital times arrived, online video games began to take the spotlight.
But it has a dark side — online gaming is far more addictive than its predecessors, and it has become a global challenge, as any kid who has access to a mobile device and the internet can fall victim.
China has roughly 158 million internet users aged between 6 and 19, accounting for 15.7 percent of the country's total netizens.
The Chinese Government last week took a bold step against the malaise of gaming addiction, rolling out tough measures to limit the minors' gaming exposure, raising eyebrows and winning applause from home and abroad.
'Strictest-ever' curbs
Dubbed the "strictest-ever" regulations targeting online gaming, the rules announced by the National Press and Publication Administration (NPPA) stipulate that online game providers can only offer one-hour services to minors from 8 to 9 p.m. Fridays, Saturdays and Sundays, as well as on official holidays.
It requires strict implementation of real-name registration and logins, saying that online game providers must not provide any form of game service to users who fail to register and log in using their real identifications.
Buoyed by huge private investment, China's gaming industry witnessed a boom in recent years, but the problem of addiction has also drawn huge attention from parents, educators and society at large, calling for government action to curtail the influence of capital.
Data from the China Internet Network Information Center showed that the annual revenue of China's gaming industry surged to 278.7 billion yuan (US$43 billion) in 2020, up 20.71 percent from the previous year. The sector of mobile gaming contributed to over 75 percent of the total revenue.
With poor self-control, kids and adolescents are vulnerable to losing themselves in the virtual world, child psychologists said. A research report on the internet usage by minors in 2020 revealed that "more than 60 percent of underage netizens frequently play games online, with mobile gaming making up for 56 percent."
Observers have warned that online gaming addiction has adverse effects on kids, affecting their physical and mental health as well as academic performances, stirring up tensions between them and their parents, and even increasing the risk of youth crime.
"It's time for our country to address this problem head-on," said Tong Lihua, director of the Beijing Children's Legal Aid and Research Center, adding that the latest move is a response to the unchecked profit-seeking nature of the gaming industry that banks on the high possibility of incurring addiction. Tong called on internet service providers to take more responsibility for minor protection.
Calling for efforts from all sectors of society, the NPPA said it will guide gaming providers to join hands with parents and schools to jointly build a sound environment for children.
Extreme cases
Tragedies can occur when young students become addicted to video games and lose their sense of reality.
In September 2018, a 13-year-old boy in Nantong, Jiangsu Province, died after jumping from a fourth-floor room. His mother vehemently criticized the game "Player Unknown's Battlegrounds," and said her son had jumped to see if he could survive like characters in that game.
Last year, an 11-year-old boy in Handan, Hebei Province, and his sister, 9, jumped from a fourth-floor room, resulting in serious injuries to both children, who were addicted to online games and believed they could fly like the characters in them.
Lan Huiyun, a high school teacher in Shuozhou, Shanxi Province, said most of his students play video games, and some have become addicted to them.
For students in less-developed areas, such games are the most accessible forms of entertainment and an important way to make friends.
A student in the second grade once asked Lan for leave after telling him that his grandmother had died. Lan became worried when the boy did not show up for class after a week. He contacted the student's parents, and it turned out that the boy had spent the entire week playing games in an internet cafe.
Lan said students who become seriously addicted to online games find all kinds of excuses to play them. They also spend little on food and clothes, saving their money for games.
He added that even when schools confiscate students' phones or call their parents, this does not solve the problem, as they can easily buy cheap secondhand phones.
Liao Yasong, a high school student in Changsha, Hunan Province, said she has spent a lot on different games, which she began playing when she was 6. She used her mother's ID card to register. Liao said playing games is a good way to pass the time and can relieve pressure from her studies.
Many of her male classmates are extremely angry with the new regulations and have said they will use every opportunity to play games and find possible loopholes until the restrictions have a real effect, Liao added.
A nationwide overhaul
Along with the online gaming regulation, a nationwide education overhaul is in full swing, focusing on reducing the burdens of students and parents by limiting the free-wheeling development of the for-profit tutoring industry, or cram schools.
Schools are also asked to recalibrate homework assignments and improve their classroom teaching and after-class services.
Liu Chunyan, the mother of a pupil in the southern city of Guangzhou, feels more at ease and relieved with her son having less homework and more time to spend on developing his interest. "Now schools lay more emphasis on designing courses and providing after-school services, which is beneficial for children to cultivate hobbies and comprehensive qualities, as well as to improve physical fitness," she said.
Dai Yanmiao, associate professor at Shanghai University of Sport, said another benefit of the recent overhaul is that kids will have more time to do sports. (Xinhua-China Daily)