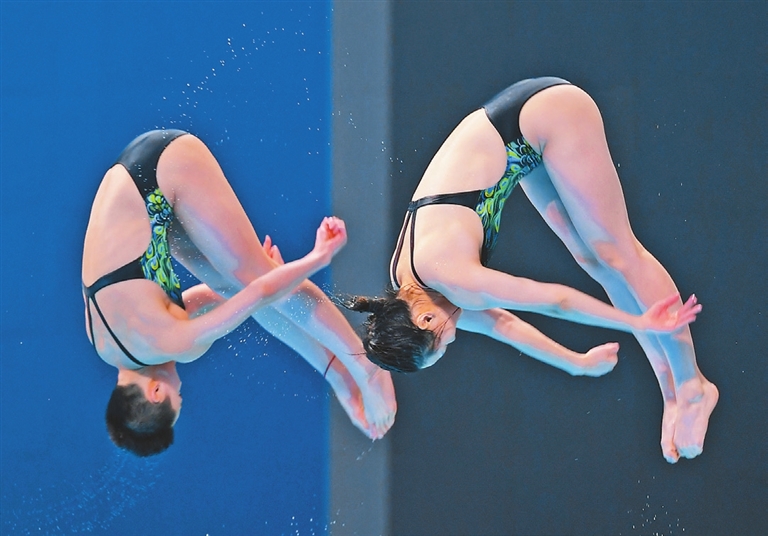 SHENZHEN youth Ouyang Yu and her teammate Chen Yiwen stormed to the first place in the women's synchronized 3m platform at the 14th National Games of China on Monday.
Their performances helped the Guangdong squad snatch the gold medal in the women's team diving, Shenzhen Evening News reported.
Born in 2001 in Hunan Province, Ouyang came to Shenzhen in 2011 after she was selected by a Shenzhen Sports School's gymnastics coach.
"Ouyang's height increased to 1.62 meters as she grew older, which is a bit tall for gymnastics programs. I found that her jumping capability is good and presented beautiful motions during her training so I brought her to the diving team," said Mai Zhongmin, Ouyang's diving coach from Shenzhen Sports School.
Ouyang's capabilities were reactivated after she changed her training course. She was included in the People's Liberation Army (PLA) diving team in 2015 and won the second prize in the women's team diving at the 13th National Games held in Tianjin in 2017.
Ouyang returned to the Guangdong squad after her former PLA diving team no longer attended the National Games. "Back then, we just needed an athlete to cooperate with Chen for synchronized platform so we gave Ouyang a try," said Mai.
Ouyang faced challenges working with Chen. "Ouyang was not very confident so I communicated with the provincial team coaches to help them know each other," said Mai.
"She always wants to get a gold medal at games like the National Games. Last time, she only got a silver medal. This year's winning is a big leap and will give her more confidence. I believe she will deliver a better performance," said Mai.
(Wang Jingli)