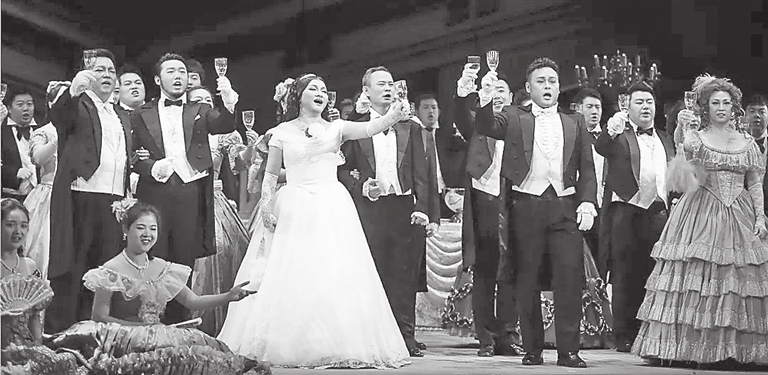 Bay Opera of Shenzhen, a new performing center with a 1,500-seat opera hall, a 598-seat multifunctional theater and several rehearsal rooms near the Bay Glory Ferris wheel in Bao'an District, will open next week with "La Traviata" presented by China National Opera House.
More musicals, dances, concerts and traditional Chinese opera shows will be staged throughout this year. Audience members can follow the venue's WeChat account "深圳滨海演艺中心" to check the schedule and ticketing information. Tickets for "La Traviata" have not been announced yet.
"La Traviata" is the last part of the so-called "popular trilogy" by Verdi along with "Rigoletto" and "Il Travotore." It's also one of the most performed and best-selling classical works in world opera history. "La Traviata" was premiered in 1853. After further adaptation, it became one of the most popular works in different opera houses universally and was staged again and again.
With deep empathy, Verdi portrays Violetta's desire for true love and her passion destroyed by social bias. The story always stirs up emotions in the audience. Arias from the opera, such as "Libiamo Ne'lieti Calici," the classic duet with chorus, the duet "Un Di, Felice, Eterea" by the hero and heroine, and Violetta's "Addio, Del Passato," are all very popular even today.
Established in 1952, the China National Opera House is home to a vast team of prominent conductors, playwrights, artistic designers, directors and performers.
Its repertoire includes a large selection of the world's best operas that are regularly presented along with traditional Chinese classical pieces such as "Farewell My Concubine," "Dream Forest" and "The White-Haired Girl."
The China National Opera House regularly participates in various international exchanges and has presented a huge number of spectacles in most of the world's famous opera houses.
Time: 8 p.m., Sept. 17-18
Venue: Bay Opera of Shenzhen, Bao'an District (宝安区深圳滨海演艺中心)
Metro: Line 5 to Baohua Station (宝华站), Exit A(SD News)