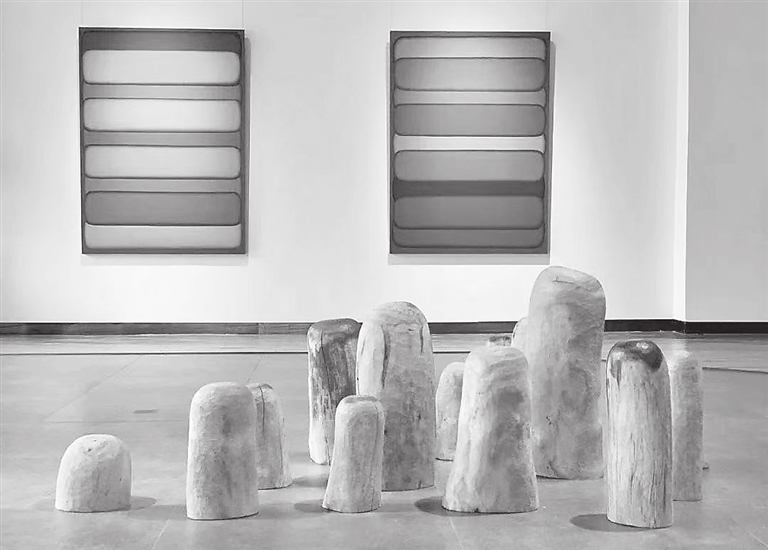 'Poet of Time'
"Poem of Time" features more than 20 paintings and sculptures by four contemporary artists, Ding Hui, Huang Jia, Yip Man and Zhang Junmin. Living in the globalized world where Chinese and Western cultures are integrated, those artists not only reflect their painting language development but also showcase the deep connection between their creations and traditional Chinese art and philosophy.
Ding applies industrial materials to his paintings, inviting viewers to feel the beauty of abstract art. His paintings demonstrate his understanding of natural laws, the life force and the relationship between himself and the world. Huang's abstract paintings visualize the existence of time through the arrangement of space, colors and shades. Her works are mysterious, which leaves more space for viewers to interpret.
Yip uses commonly seen materials from daily life to present the original state of life in his installations and paintings. Using traditional Chinese heat therapy's moxibustion to fire-cure rice paper, Zhang expresses his understanding of nature and individual life.
The calm thinking of time and life run through the four artists' creations, and in return time gives them unlimited inspiration.
'Epistemology'
People are always pursuing the essence of life. As mentioned by painter Chen Dali, her perception of the world is illusory. Her abstract paintings on rice paper drive us to view her inner mind. In Western psychology, our memory can be transformed into a curve. Another painter, Nan Nan, created abstract paintings that depicted and reshaped her memory in a certain time and place.
Dates: Until Oct. 31
Hours: 1-7 p.m. (Mondays), 10 a.m.-7 p.m. (Tue.-Sun.)
Venue: Great Art Space, 1003 Shennan Boulevard, Futian District (福田区深南大道1003号宏艺空间)
Metro: Line 2 to Gangxia North Station (岗厦北站), Exit B
(SD News)