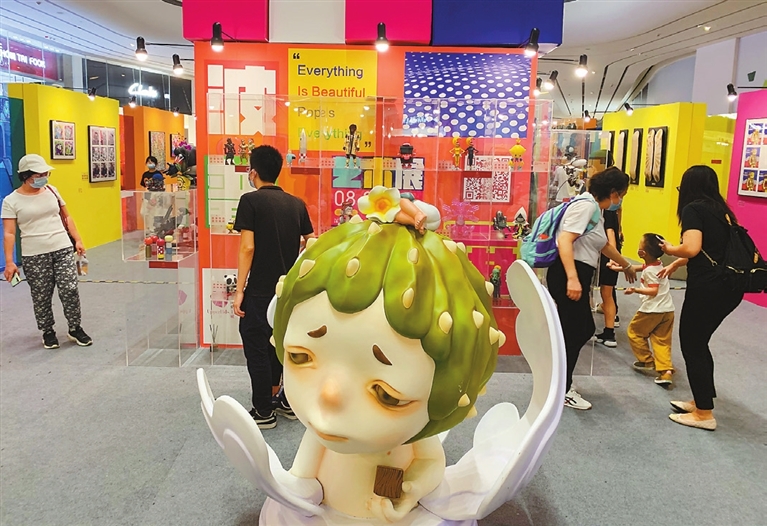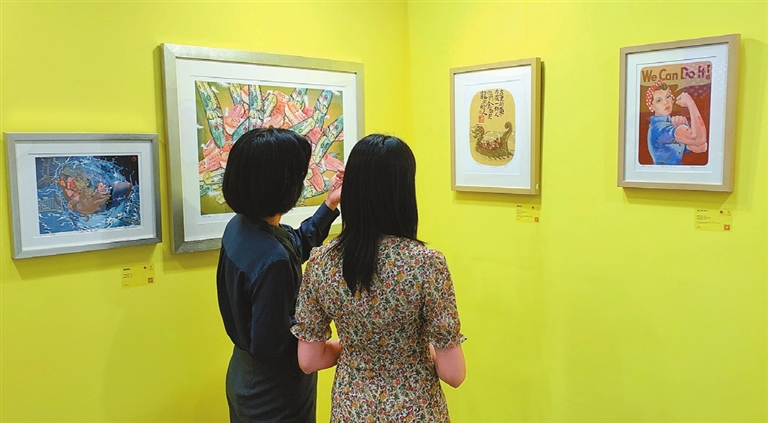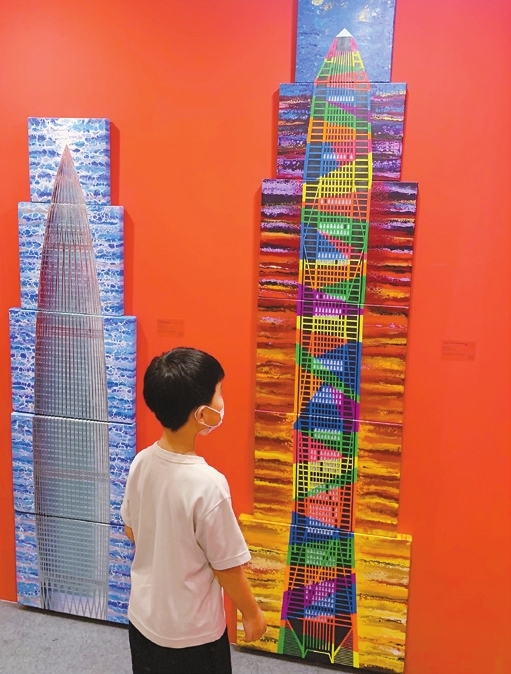 Art enthusiasts now can dive into a "sea" of pop art at UpperHills.
The 300-square-meter exhibition showcases works from several Chinese and foreign artists including Death NYC, Lele Fioroni, Hajime Sorayama, Hikari Shimoda, Kaws, Zhao Qian and Pei Changlong. Entry is free. Visitors can also buy some of the works on location.
Death NYC is a street artist from New York City, the United States. She has always been influenced by various cultural styles and was curious about street art when she was a child. She is keen on combining different elements into her works, for example, covering the eyes of a Snoopy Dog with the Supreme logo.
Born in Milan, Italy, Fioroni has a rich imagination and specializes in breaking the barriers of material and art forms. At the exhibition, his work on canvas depicting the Ping An Finance Center in rainbow colors is on display.
Sorayama was born in Japan in 1947 and later became a free-form illustrator. He is known for the creation of mechanical robots in the forms of paintings and sculptures. Using spray-painting techniques, he is also a master of erotic illustrations.
As a young artist in Japan, Shimoda's artworks reveal the elements of death. Her earliest works' inspiration comes from her understanding of the Fukushima nuclear power plant leakage accident caused by the 2011 earthquake in Japan.
Kaws is a U.S.-based street artist and creator of graffiti art. In 2006, he founded the fashion brand Original Fake and entered the apparel market with products using his symbolized style, for example, creating Xs for the eyes of cartoon figures; he also has collaboration with Nike and Uniqlo. Kaws' works have always appeared on advertising paintings or posters.
Born in Guangdong in 1981, Zhao graduated from the Guangzhou Academy of Fine Arts and the Central Academy of Fine Arts with a bachelor's and master's degree respectively. He is currently a lecturer at the Guangzhou Academy of Fine Arts.
Springing up in Britain in the early 1950s, pop art is a visual arts movement characterized by the enlarged reproduction of details in popular culture, such as comic strips, fast food and logo-printed packaging.
Dates: Until Sept. 17
Venue: 1/F, UpperHills, Futian District (福田区深业上城一层)
Metro: Line 10 to Donggualing Station (冬瓜岭站), Exit A
(Lin Songtao)