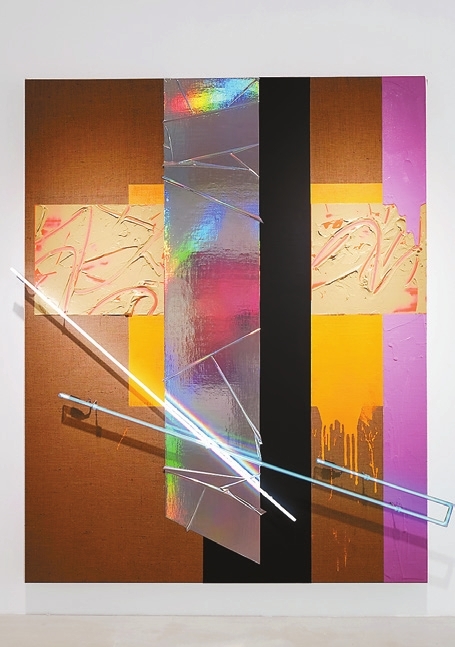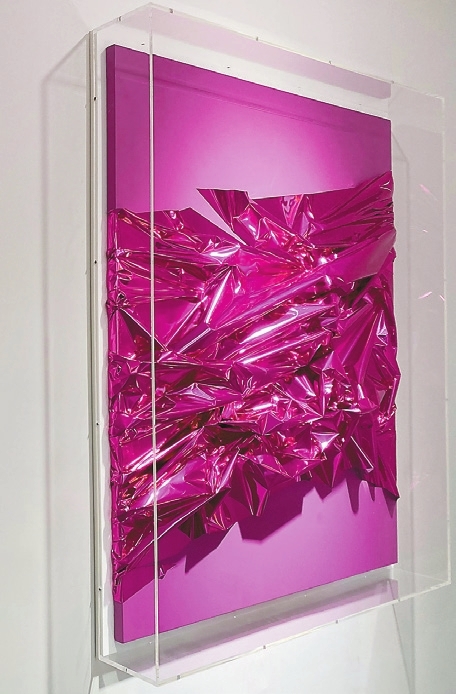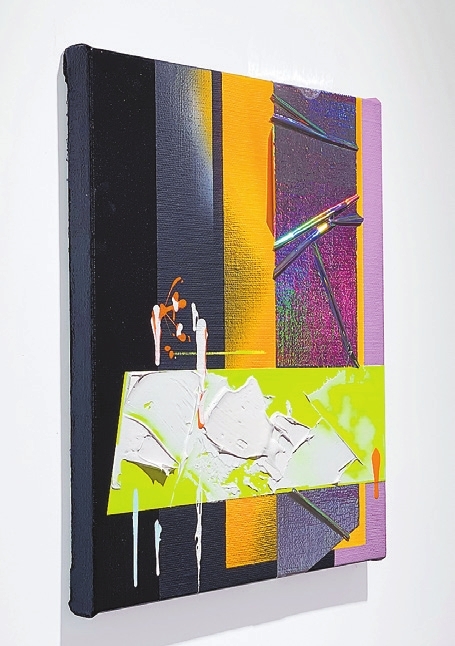 Mixed media artworks created by German artist Anselm Reyle are on display at ArtBay in OCT-LOFT. The visual quality of Reyle's works is determined by the materials he selected, such as foils, acrylic glass, neon lights and metals.
Graduating from the Academy of Fine Arts, Karlsruhe in 1997, Reyle took an early interest in landscape design and music before finally settling on painting and sculpture. Later he is known for his large-scale, ultra-refined abstract paintings, sculptures and elaborate installations with found-object elements, referencing contemporary consumer society. He frequently makes use of abstract shapes, colors and unconventional materials, such as car parts, shattered computer equipment or glass and foils, in his artworks, and paints with acrylic pastes and car lacquers. He predominantly produces works with highly reflective surfaces, supported by vivid and flashy coloring, often resulting in glowing creations with neon lights or pulsating LEDs.
Reyle's works are intimately linked to Modernism, borrowing, critiquing and reinventing its conventions all at once. Found objects play a major role in his artworks and he appropriates these to evoke the clichés associated with them and to exaggerate them. He is one of few contemporary German artists examining the lessons of abstraction and expanding upon the prevailing aesthetics of painting and sculpture.
Reyle once said: "For me, the real meaning of art is to render another possible world, which has other rules and associations. This world is an island, and for some of us, also a life raft. We can gather new experiences on this island and transfer many of them into the real world. They can add something to and even change our lives."
Dates: Until Oct. 25
Venue: ArtBay, Block F1, South Area, OCT-LOFT, Nanshan District (南山区华侨城创意文化园南区F1栋艺湾ArtBay)
Metro: Line 1 to Qiaocheng East Station (侨城东站), Exit A
(SD News)