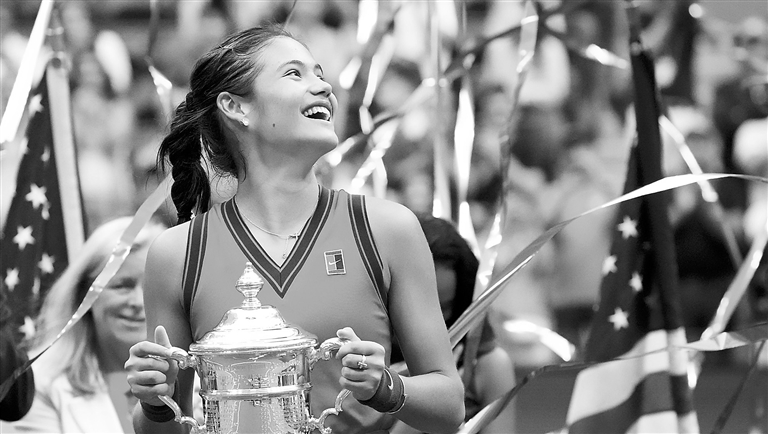 EMMA RADUCANU from Britain grabbed her first Grand Slam title by defeating Leylah Fernandez of Canada 6-4, 6-3 Saturday in the U.S. Open women's final.
The 18-year-old qualifier became the first player in the professional era to come through the qualifying rounds all the way to a major title.
Raducanu, ranked 150th, also became the youngest Grand Slam champion since 17-year-old Maria Sharapova at Wimbledon in 2004.
"I knew I would have to dig deep. It was an incredibly difficult match but I thought the level was really high. I had to play some of my best tennis," said Raducanu, who is also the first U.S. Open women's champion not to drop a set since Williams in 2014.
"You say, 'I want to win a Grand Slam.' But to have the belief I did, and actually executing, winning a Grand Slam," Raducanu said, "I can't believe it."
Until three months ago, she had never played in a professional tour-level event, in part because she took 18 months for a combination of reasons: the pandemic and her parents' insistence that she complete her high school degree.
"My dad is definitely very tough to please," the 18-year-old Raducanu said with a smile Saturday evening. "But I managed to today."
She captured 10 matches in a row at Flushing Meadows — three in qualifying, seven in the main draw.
Raducanu, who was born in Toronto, Canada, and moved to England with her family at age 2, also is the first British woman to win a Grand Slam singles trophy since Virginia Wade at Wimbledon in 1977. Queen Elizabeth II sent a congratulatory note, hailing the victory as a "remarkable achievement at such a young age."
This was the first major final between two teens since Williams, 17, beat Martina Hingis, 18, at the 1999 U.S. Open; the first between two unseeded women in the professional era, which began in 1968.
Fernandez, 19, was asked during a pre-match interview in the hallway that leads from the locker room to the court entrance what she expected Saturday's greatest challenge to be.
"Honestly," she responded, "I don't know."
Fair. Neither she nor Raducanu could have.
This was only Fernandez's seventh major tournament; she hadn't made it past the third round before.
Both she and Raducanu displayed the poise and shot-making of veterans at the U.S. Open — not two relative newcomers whose previous head-to-head match came in the second round of the Wimbledon juniors event just three years ago.
The talent and affinity for the big stage both possess is unmistakable.
One of the significant differences on this day: Fernandez put only 58 percent of her first serves in play and finished with five double-faults, helping Raducanu accumulate 18 break points.
"I, unfortunately, made one too many mistakes in key moments," Fernandez said, "and she took advantage of it."
Raducanu broke to go up 4-2 in the second set, held for 5-2 and twice was a point from winning the title in the next game. But under pressure from Fernandez, she let both of those opportunities slip away by putting groundstrokes into the net.
Then, while serving for the match at 5-3, Raducanu slid on the court chasing a ball to her backhand side, bloodying her left knee while losing a point to give Fernandez break chance. Raducanu was ordered by chair umpire Marijana Veljovic to stop playing so a trainer could put a white bandage on the cut.(SD-Xinhua)