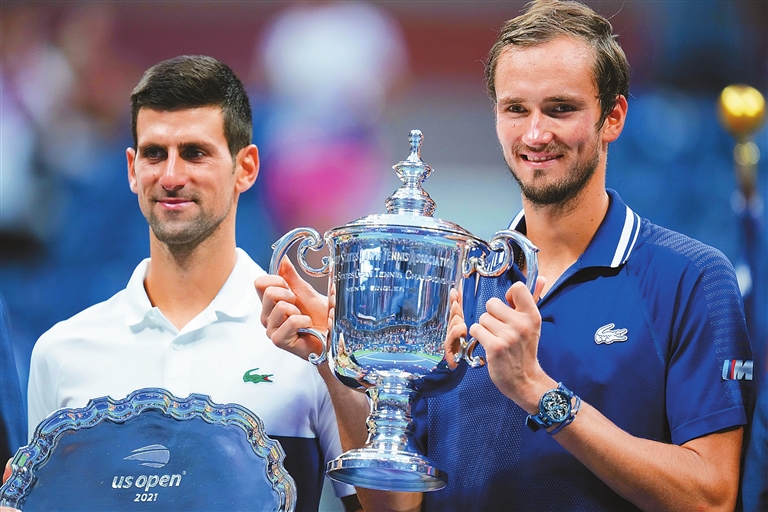 NOVAK DJOKOVIC'S bid for the first calendar-year Grand Slam in men's tennis since 1969 ended one victory short with a 6-4, 6-4, 6-4 loss to Daniil Medvedev in the U.S. Open final Sunday.
For 27 Grand Slam matches in 2021, on hard courts, clay courts and grass, Djokovic could not be deterred, could not be beaten. Needing one more victory, in the U.S. Open final Sunday against Medvedev, to complete a season sweep of major titles and to claim the record 21st of his career, Djokovic could not come through.
"Relief. I was glad it was over, because the buildup for this tournament, and everything that mentally, emotionally, I had to deal with throughout the tournament in the last couple of weeks, was just a lot. It was a lot to handle," Djokovic said at his news conference.
He won the Australian Open in February, beating Medvedev in the final in straight sets, the French Open in June and Wimbledon in July, pulling even with Rafael Nadal and Roger Federer at 20 Grand Slam titles, the most for a man in the history of a sport that dates to the 1800s.
The last man to complete a true Grand Slam by going 4 for 4 at the majors in a single season remains Rod Laver, who did it twice — in 1962 and 1969 — and was in the stands Sunday. The last woman to accomplish the feat was Steffi Graf in 1988.
Instead, Djokovic joins Jack Crawford in 1933 and Lew Hoad in 1956 as men who won a year's first trio of Grand Slam tournaments and made it all the way to the U.S. Open final before losing.
"I do feel sorry for Novak, because I cannot imagine what he feels," said Medvedev, a 25-year-old from Russia who had been 0-2 in major finals. "Knowing that I managed to stop him, it definitely makes it sweeter, and brings me confidence for what is to come."
"Just energy-wise, I felt slow," said Djokovic, who could not create the kind of comeback he had in each of his previous four matches — and six others in Grand Slam action this year — when he dropped the opening set.
Djokovic made plenty of mistakes, 38 unforced errors in all. He wasn't able to convert a break chance until it was too little, too late, going just 1 for 6. He showed frustration, too, destroying his racket by pounding it three times against the court after one point, drawing boos from the crowd of 25,703 and a code violation from chair umpire Damien Dumusois.
(SD-Agencies)