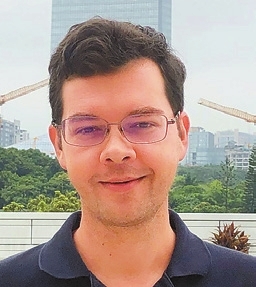 Wang Jingli
wangjingli163@163.com
SCOTT EDWARDS from Shenzhen University (SZU) is the only foreign teacher among the city's winners of this year's excellent teacher award, which was presented last week to mark Teachers' Day.
However, Edwards felt humbled to receive the award.
"I have mixed feelings. I am happy as it is a recognition of my hard work," he said. "But I do believe there are still many other teachers who also deserve to be recognized."
Edwards, from Australia, earned his Ph.D. at the Australian National University Research School for Physical Sciences and Engineering.
He came to Shenzhen in 2012 for a teaching position at SZU, and since 2014 he has been responsible for teaching physics courses to freshmen and sophomores in the Institute for Advanced Studies.
"Looking back on my own time as a student, I realize I have forgotten most of the details my teachers taught in class, but what I do remember is the joy some of my teachers obviously took in physics," said Edwards, adding that this experience has made him believe that the most important thing in teaching is to cultivate students' authentic love for subjects.
"Also, I want to motivate students to discover beauty in the world, to become sensitive to hidden kinds of beauty in nature," said Edwards.
In terms of teaching methods, Edwards said he doesn't like his classes to be conducted with loads of slideshows. Instead, he prefers to write on the board to show students the process of how he is thinking.
"Even though this process sometimes shows my mistakes publicly, this is normal. We all make mistakes," he said.
In comparison to Australian peers, Chinese students show high respect for teachers, he said.
"You would never see Chinese students throwing paper planes right to teachers in class, which, however, did happen in my classroom back when I was a student."
When asked about advice for Chinese students, Edwards suggested: "What they need to do more from my perspective is to think about their direction in life, to discover what their own particular talents are and how best to use them, rather than just following the crowd."
Edwards, who has been living in Shenzhen for roughly nine years, pointed out the city's construction on parks, the Metro and the blue sky shows the development he has witnessed over the years.
"The quality and liveliness of a city's parks is one element to tell how civilized it is. Living in Shenzhen, you can easily access parks while enjoying urban architecture at the same time. Meanwhile, back in 2012, there were only two Metro lines in the city. I am not a car person so the current public transport system gives me freedom to go wherever I want to go," he said.