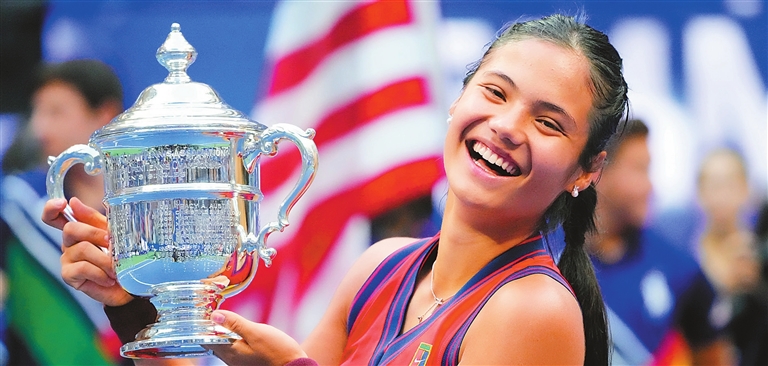 British tennis player Emma Raducanu has accomplished one of the greatest sporting achievements of all time — winning the U.S. Open at just 18.
Raducanu defeated Canadian teen Leylah Fernandez in straight sets on Saturday, becoming the youngest grand slam winner since Maria Sharapova won Wimbledon in 2004 at the age of 17. She is also the first player in history to win one of the top four tournaments after gaining entry by fighting through qualifying rounds.
Her victory made the front pages of newspapers around the world on Sunday and Monday, including The New York Times and The Guardian.
Following her win, U.K. Queen Elizabeth II congratulated the teenager, saying: "It is a remarkable achievement at such a young age, and is testament to your hard work and dedication."
Toronto born
Raducanu was born on November 13, 2002 in Toronto, Canada, to a Chinese mother and Romanian father.
Having moved to England at the age of 2, she took up tennis at the age of 5. But back then it was just one of many after-school activities her parents would take her to.
From ballet lessons with her mum to dirt biking with her dad, eventually her schedule became increasingly focused on tennis. At the age of 16 she made the decision to become a professional tennis player.
Emerging star
After making her name with a wildcard appearance at the WTA Nottingham Open, Raducanu made her main draw Grand Slam debut as a wildcard entrant to the 2021 Wimbledon Championship.
It was there that she became the youngest British woman to reach the last 16 in the open era and saw her ranking increase from 338 in the world to 186.
She then reached the final of the WTA 125 tournaments event in Chicago and took her ranking to 150 in the world.
Raducanu has really announced herself as a future star with her performances at the 2021 U.S. Open — which she won in incredible fashion.
It was there that she became the first qualifier ever to reach the last four of the U.S. Open. The British tennis sensation did not drop a single set in New York and became 1.8 million pounds (US$2.5 million) richer after her win on Saturday evening.
A hardworking student
James Carlton is the manager at Bromley Tennis Center where Raducanu trained from the ages of 10 to 16.
He would often coach on the court next to her and see her training. "She's incredibly single-minded and determined," he told Sky News. "She works very hard. The center is next to her school so she would be here before, after, and sometimes during."
The young athlete in June got her A Level results — an A+ in maths and an A in economics.
Despite being a full-time student, the tennis star's training schedule would be three or four hours on court every day, followed by extra time in the gym, Carlton explains.
"We would often see her working on her schoolwork in between sessions," he said. "Doing that while maintaining her schooling and academia is even more impressive."
A sensation in China
Raducanu has become a hot topic on Chinese social media with the teenager thanking fans in Mandarin after her historic win in New York.
Raducanu thanked her fans in fluent Mandarin through a video on social media shortly after the victory. "I wanted to say thank you," she said. "I hope you liked watching my tennis. I'm really really excited right now. … Goodbye, I love you."
It had more than 200 million reads in 24 hours. Xinhua praised her tenacity and celebrated her Chinese heritage. It pointed out that Raducanu had received training at the sports academy in Shenyang, her mother's home town.(SD-Agencies)