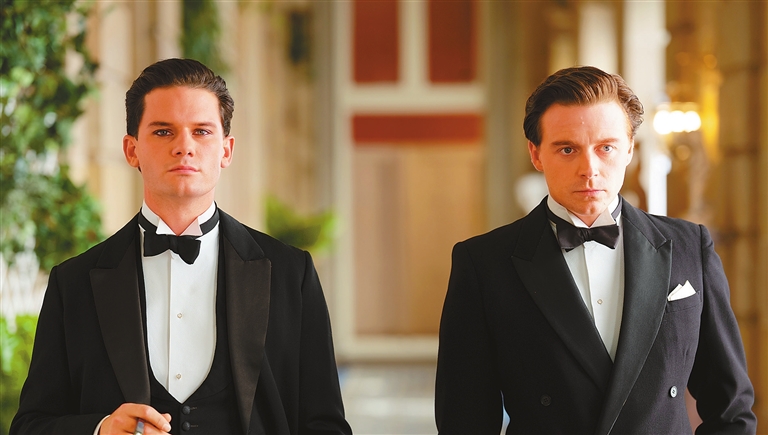 Six years after taking a contemplative approach to the life of Emily Dickinson in "A Quiet Passion," Terence Davies undertakes a thoughtful study of another poet, Siegfried Sassoon, in "Benediction." The English writer emerges here as an introspective figure — a decorated World War I soldier haunted by the deaths he witnessed on the Western Front and a gay man disillusioned by his relationships. But this biographical drama eventually winds its way to a profoundly affecting conclusion.
That ending is like a release valve for Jack Lowden's sensitive performance as the young Sassoon. Raw feeling suddenly floods from him with a force that makes viewers rethink his love for Wilfred Owen (Matthew Tennyson), who entered his life only briefly, and whose legacy as a First World War poet would equal or even overshadow Sassoon's.
Chief among Sassoon's partners portrayed here are London theater luminary Ivor Novello (Jeremy Irvine), described by Siegfried's mother (Geraldine James) as "amusing but unpleasant," with cruel eyes; and bright young Stephen Tennant (Calam Lynch). The unhappy experiences drive Siegfried into the retreat of a passionless heterosexual marriage, like many gay men of the era. "You must redeem my life for me," he tells future wife Hester Gatty (Kate Phillips), making no secret of his sexuality.
A whirl of famous names moves through his orbit — Ottoline Morrell (Suzanne Bertish) and Edith Sitwell (Lia Williams) make brief, highly theatrical appearances — but it's the experiences of the war that linger with Sassoon. And his choice to capitulate to the safety of marriage, transitioning into "the shadow life," steers him toward an old age poisoned by sorrow and regret.
Davies opens with Siegfried and his younger brother Hamo (Thom Ashley) attending a 1914 performance of Diaghilev's Ballets Russes dancing Stravinsky's "The Rite of Spring," a last gasp of beauty before the siblings ship off to war. Only one would return. The director takes a lyrical collage approach, interweaving black-and-white archival footage of soldiers in battle with Sassoon's poems read in voiceover by Lowden. These are not poems of heroism and valor but of desolation, trench fever rendered as horror.
Withdrawing from service, Siegfried sends a "Soldier's Declaration" to his commanding officer in 1917, a broadside against the British government's continuation of the war and of the senseless sacrifice of human lives. His friend Robbie Ross (Simon Russell Beale), a former lover of Oscar Wilde's, uses his influence to intervene, against Siegfried's wishes, and spare him from court-martial. Instead he's brought before a committee and advised to "ignore his conscience," but he refuses to be silenced. In order to neutralize his protest, Sassoon is deemed unfit for service and sent to a military psychiatric hospital in Edinburgh.
Siegfried meets and mentors the younger writer Wilfred Owen while at the hospital. It's Owen's poem "Disabled" that pushes Siegfried to the shattering catharsis of the film's final scene.
The young Siegfried, an ineffably gentle gentleman in Lowden's performance, contrasts with his embittered older self, all kindness erased over the years.
"Benediction" depicts a quest for personal salvation that remains unfulfilled.(SD-Agencies)