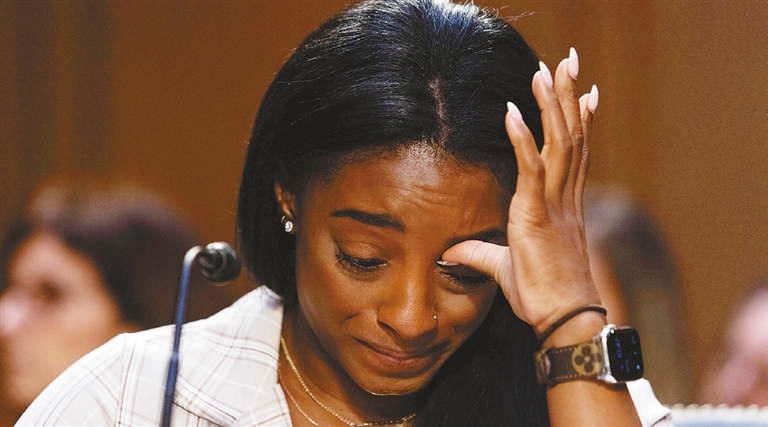 OLYMPIC champion Simone Biles and other top American gymnasts testified in front of U.S. Congress on Wednesday about the comprehensive failures of the FBI's investigation into Larry Nassar, the former Team USA doctor who sexually abused hundreds of girls and women under the guise of treatment.
Biles has been through a lot over the past several years. She publicly admitted that she was abused by Nassar. COVID-19 delayed the Tokyo Olympics and derailed her practice schedule. At the Olympics, she had a bout of the "twisties," which led her to pull out of most of the events. Following that, she continued a public conversation about athletes' mental health.
Biles told the Senate Judiciary Committee that "enough is enough" as she and three other U.S. gymnasts spoke in stark emotional terms about the lasting toll Nassar's crimes have taken on their lives.
The four-time Olympic gold medalist and five-time world champion — widely considered to be the greatest gymnast of all time — said she "can imagine no place that I would be less comfortable right now than sitting here in front of you." She declared herself a survivor of sexual abuse.
Biles said a message needs to be sent: "If you allow a predator to harm children, the consequences will be swift and severe. Enough is enough." The hearing is part of a congressional effort to hold the FBI accountable after multiple missteps in investigating the case, including the delays that allowed the now-imprisoned Nassar to abuse other young gymnasts. All four witnesses said they knew girls or women who were molested by Nassar after the FBI had been made aware of allegations against him in 2015.
An internal investigation by the Justice Department released in July said the FBI made fundamental errors in the probe and did not treat the case with the "utmost seriousness" after USA Gymnastics first reported the allegations to the FBI's field office in Indianapolis in 2015. The FBI has acknowledged its own conduct was inexcusable.
McKayla Maroney, a member of the gold-medal winning U.S. Olympic gymnastics team in 2012, recounted to senators a night when, at age 15, she found the doctor on top of her while she was naked — one of many times she was abused. She said that when she recalled those memories in a call with FBI agents, crying, there was "dead silence."(SD-Agencies)