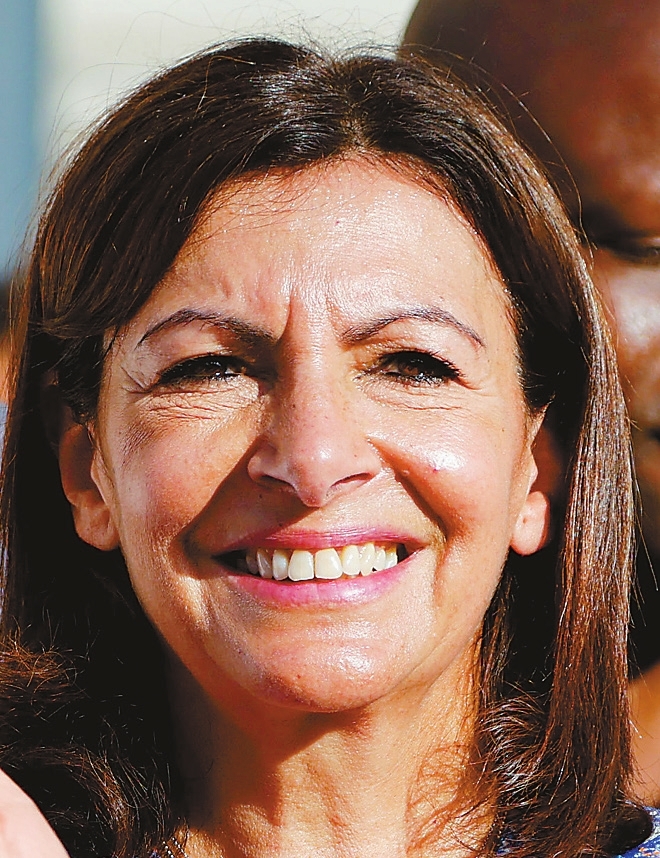 ANNE HIDALGO, the Socialist mayor of Paris, has sought to transform the French capital with a crusade against cars but now faces an even tougher challenge of expanding her profile nationally to become France's first female president.
The first female mayor of Paris, 62, was a virtual unknown seven years ago when she succeeded her former mentor and boss, Bertrand Delanoe, as mayor of Paris — a position seen as a stepping stone to the presidency.
The reserved former labor inspector, dismissed by critics as an "apparatchik," struggled to emerge from his shadow.
But Hidalgo, who grew up in a housing estate near Lyon, is used to being underestimated.
Responding to polls that show her winning only between 7 and 9 percent of the vote for president, she told Paris Match magazine last month: "All my life I've proved the polls wrong."
She is hoping to boost that score by tapping into the growing climate activism of France's younger generation.
Incumbent French President Emmanuel Macron has yet to confirm he will seek a second term but is widely expected to run again.
Polls suggest he and France's far-right leader Marine Le Pen would top the first round of voting in April and Macron would then beat Le Pen in the run-off, in a repeat of 2017.
Le Pen confirmed her own candidacy Sept. 12, to the despair of even her own rightist supporters who know she can never win. She was crushed by Macron five years ago and against François Hollande five years before that.
Announcing her candidacy Sept. 12, Hidalgo credited her rise from humble beginnings to France's egalitarian school system, saying it had "liberated" her from "class prejudices."
She chose the dockyards of the Socialist-run city of Rouen to make her pitch for a low-carbon economy and more spending on education, housing and health.
"I want all children in France to have the same opportunities I had," she said, crediting the French school system with helping her overcome the "class prejudice" she suffered as the child of Spanish immigrants — her father was an electrician and her mother a seamstress — in a housing estate in Lyon.
Hidalgo, who has been the mayor of the French capital since 2014, is favored to win the nomination of her Socialist party later this month but faces an uphill battle to unite the fractured left behind her candidacy.
Hidalgo enters the race as a polarizing figure whose campaign to squeeze cars out of Paris and green the city has divided residents.
Since winning the mayor's office in 2014, she has had to steer the city through a multitude of crises, from a string of terror attacks to the "yellow vest" revolt of 2018 and 2019 and the fire that nearly destroyed Notre-Dame cathedral.
Yet her first term as Paris supremo —Hidalgo handily won re-election in 2020 — will probably best be remembered for the battle over her decision to pedestrianize a busy road running along the right bank of the Seine, and the chaotic rollout of a bike-sharing scheme.
During her second term as mayor of Paris, Hidalgo supervised the COVID-19 pandemic in the city and implemented measures such as the closure of nonessential shops, nightly curfews and the introduction of 50 kilometers of pop-up cycle lanes known as "coronapistes" to reduce pressure on public transport.
Some of her policies have gained attention worldwide, and one of them is her proposal to remove over half of Paris' car parking spaces and turn the Champs-Élysées into a "fantastic garden."
Hidalgo makes no bones about her anti-car stance.
Her naysayers, she said in 2016, were in "complete denial about the climate emergency" that had brought nearly 200 countries together in Paris a year earlier to combat global warming.
But no sooner had one controversy died down than another flared.
Her critics accused her of failing to get tough on petty crime, of letting swarms of rats invade public parks, and generally allowing the world's most-visited city to become dirty and unsightly.
Residents used the #saccageparis (Trashed Paris) hashtag to post pictures of rubbish piling up on the streets, of dilapidated public benches and scooters discarded on the pavement, among other ills.
Hidalgo has blamed the disorder on a lack of civic spirit and accused her critics of mounting a smear campaign.
Responding to accusations of authoritarianism in her 2018 book "Respirer" (Breathe), the mother-of-three remarked: "What passes for authority in a man becomes authoritarianism in a woman."
She most recently took the world stage in Japan, where she accepted the Olympic and Paralympic flags at Tokyo 2020's closing ceremonies.
Among her achievements she points to a cycling revolution, brought about by the doubling of Paris's network of cycle lanes since 2015.
Despite her disputed legacy Hidalgo has emerged as one of the few figures capable of uniting the fractured left around an environmentalist platform.
"Through her diligence and the way she has managed France's biggest city she has shown that she could be the one," Socialist party leader Olivier Faure said in June.
"And maybe the time for a woman has also come."
Hidalgo has also argued the case for having a woman as president.
She is not the only woman eyeing the Elysee Palace — Le Pen and center-right politician Valerie Pecresse have also thrown their hats into the ring.
Alluding to record low levels of voter turnout in recent elections, Hidalgo says: "A woman can change the relationship (of the French) with people in power."
Hidalgo, who launched her candidacy in the northwestern city of Rouen, was born to Spanish immigrants who fled their country in search of freedom amid dictator Francisco Franco's rule towards the end of the Spanish civil war.
"I was born in Spain to an electrician dad and seamstress mom," she said.
"I'm not one of these people who are born into the centers of power," she said. "I had the opportunity to benefit from this republican promise ... this real equality through school."
"Today, I note with sadness that if I were arriving in France today, in the same conditions, I wouldn't have the same opportunities," she said, crediting that observation with motivating her bid for the presidency.
Hidalgo holds a master's degree along with a graduation degree in social law at Jean Moulin University Lyon 3. She also completed a Master of Advanced Studies (DEA) in social and trade unionism at Paris West University Nanterre La Défense.
Hidalgo named 11 women out of 16 in her upper management in 2020. She was fined for having more women in her management. French Civil Service Ministry allows a maximum of 60 percent of one gender in leadership positions.
Married to politician Jean-Marc Germain, Hidalgo is also the mother to Arthur Germain.
Hidalgo's ecological bent is catching – at the very least within her own family. Arthur is the youngest Frenchman to swim across the English Channel in 2018 aged 16. This summer he swam 784 kilometers from the source to the mouth of the Seine to raise awareness about water pollution. The mayor was on hand, along with the media, to embrace her son on the riverbank during his journey's Paris leg July 3.
Although Hidalgo received catholic education, she is reported to be an outspoken atheist.
No stranger to criticism, Hidalgo has also been reproached for her temperament, which she once said is "like my father's – explosive." But she is spirited about the fault-finding, suggesting it roots in sexism. "I know the gap that exists between who I am really and how I am perceived," she wrote in her previous book, 2018's "Respirer" (Breathing). "A man's authority becomes a woman's authoritarianism," Hidalgo argued, three years before launching her run to become France's first woman president. (SD-Agencies)