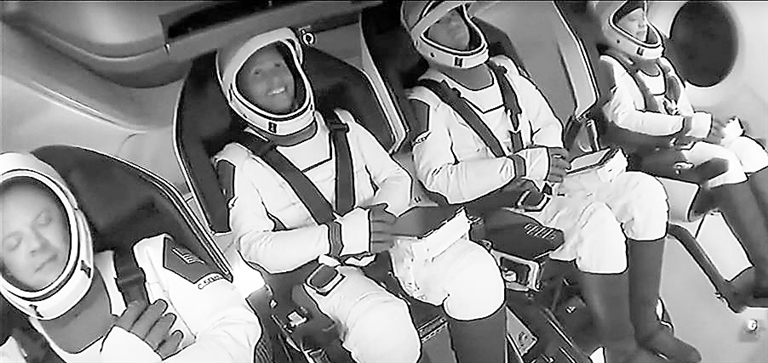 A SPACEX Falcon 9 rocket carrying four space tourists blasted off Wednesday night from the Kennedy Space Center in Florida for the first mission to orbit the globe with an all-civilian crew.
A huge fireball illuminated the sky as the rocket's nine engines began to pull away from Earth at 8:02 p.m. (0:02 a.m. GMT on Thursday).
Around 12 minutes later, the Dragon capsule separated from the rocket's send stage as the crew entered orbit, while the reusable first stage made its way back to Earth for a vertical landing on a sea barge.
"A few have gone before and many are about to follow," said Jared Isaacman, the 38-year-old billionaire who chartered the flight.
The spaceship's trajectory will take it to an altitude of 575 kilometers, which is deeper into space than the International Space Station.
After spending three days spinning around the planet, the four-person crew, all Americans, will splash down off the Florida coast.
Building up commercial capability has been the vision of NASA's commercial crew program since it was founded in 2011.
Beyond the charitable and scientific aspects, the mission's stated goal is to represent a turning point in the democratization of space, by proving that the cosmos is accessible to people who have not been handpicked and trained for many years as astronauts.
For SpaceX, this is nothing less than a first step toward a multiplanetary humanity —founder and CEO Musk's ultimate vision.
The flight should remain fully automated, but the crew has been trained by SpaceX to be able to take control in the event of an emergency.
The space adventure bookends a summer marked by the battle of the billionaires Richard Branson and Jeff Bezos to reach the final frontier.
(SD-Agencies)