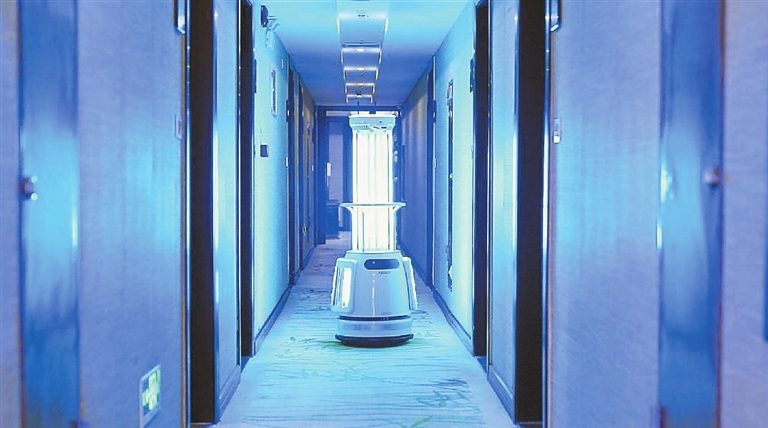 Zhang Yu
JeniZhang13@163.com
AN anti-pandemic technological solution for quarantine hotel has been unveiled in Nanshan District recently in a bid to help build a showpiece quarantine hotel in Shenzhen in the fight against COVID-19.
The solution has integrated technologies such as 5G communication, Internet of Things (IoT) and artificial intelligence to achieve whole process of closed-loop and contactless management in a quarantine hotel.
At present, this solution has been applied to Xicheng Hotel in Nanshan, a centralized quarantine hotel in Shenzhen. The intelligent robots developed by local robotics company UBTECH will each show its special prowess in temperature measurement, disinfection and delivery.
For instance, an ultraviolet disinfecting robot would sterilize corridors, elevators and other high-risk areas where bacteria and viruses are found, at a fixed time and point. Hotel workers can operate the robot via remote control and according to UBTECH, this robot adopts a high-power rapid UV-C disinfection process and can kill 99.99 percent of bacteria in a 40-square-meter room in 10 minutes without generating secondary pollutants.
An infrared thermometer automatically measures guests' temperatures during their stay so the command center can keep track of their health condition. The delivery robot would then provide guests with clean and safe goods and materials.
When a guest finishes his or her quarantine period, the disinfection robot would automatically roam the hotel room for a thorough disinfection.
"Using intelligent robots, the solution can effectively isolate the source of infection, reduce the risk of cross infection and improve the efficiency of epidemic prevention work," said Xiong Youjun, UBTECH's chief technology officer.
Xu Wenquan, manager of Xicheng Hotel, noted that the solution's application can effectively alleviate the pressure of hotel staff in goods delivery and disinfection.