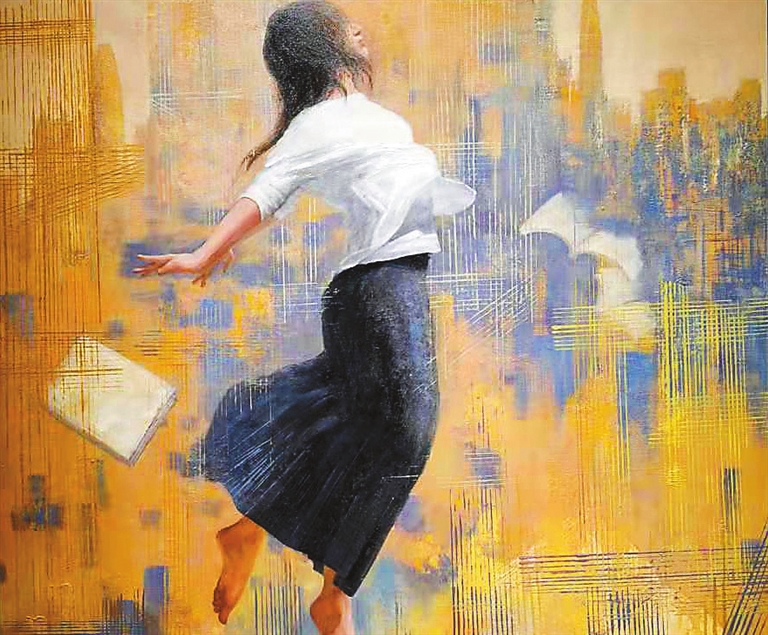 Debra Li
debra_lidan@163.com
Although she has 14 classes to teach each week, not counting the extra time spent with the painting club students, Zhang Qun has squeezed time out to pursue her own painting dream. This primary school teacher from the Shenzhen Experimental Education Group is among some 30 local teachers whose calligraphy, paintings and sculptures are being displayed on the 5th floor of the Guangming Culture and Art Center, Guangming District until October 17.
A total of 50 pieces of ink paintings, fine-brush paintings, oil paintings, sculptures and calligraphy works are on show, which attracted hundreds for the opening afternoon on Sunday.
The works came from several generations of art teachers, including Ma Xiaoqi and Dai Peiren, both retired pedagogues still active on the local art scene, Gao Tongyu, a middle-aged teacher whose works have been awarded at national competitions, as well as younger talents such as Zhan Linfang, whose oil paintings are abstract with an impressionistic touch. An Ning, a retired math teacher, also has his calligraphy works on display at the exhibition.
One of Gao's oil paintings features a dancing young woman halfway in the air against an impressionist background of Shenzhen's high-rise buildings, books, a smart phone and other symbols of science and technology, all entangled in a splendid orange, pink and blue. Wearing a white shirt and a dark skirt, the woman's posture reminds viewers of a soaring bird, flying towards knowledge and truth.
Another piece by the same teacher depicts a serene moment when he and his colleagues returned from a field trip to a village in the Jinggang Mountain region. In that piece, a bicycle lies on the ground by the wavering crops in vast fields, half hidden, and farm houses are seen at the foot of mountains in the background.
The show also features two sculptures by Wang Li, a young teacher with the high school in Guangming attached to the Experimental Education Group. Inspired by ethnic minority mythology in Yunnan Province, one glass fiber reinforced plastic piece depicts a young man playing a sheng (a Chinese reed wind instrument) sitting on the back of a giant black cat lounging on the ground, while tree branches grow out of the cat's body. "I was fascinated by the ethnic minority stories, which reflect a simple ancient belief that everything in nature has a soul and needs to be respected and left alone," Wang told visitors at the show.
His other piece, a pottery sculpture, depicts a giant yak with two ethnic minority musicians leaning on it while they play a long wind instrument; several small birds are perched on the yak's back.
Li Zhenyu, principal of the high school branch of the Shenzhen Experimental School, said the exhibition serves as a platform for teachers to display their talent and for them to exchange with other artists.
"Art teaching has been thought as an indispensable part of education since a century ago, when modern education was budding in China," he said.
"Late Peking University president Cai Yuanpei had promoted art education as a means to cultivate in students a good character and world view. His belief is still inspiring for us today. As proved by this exhibition, our teachers are trying to lead students to experience, appreciate and create beauty, while keeping their own artistic pursuits alive."