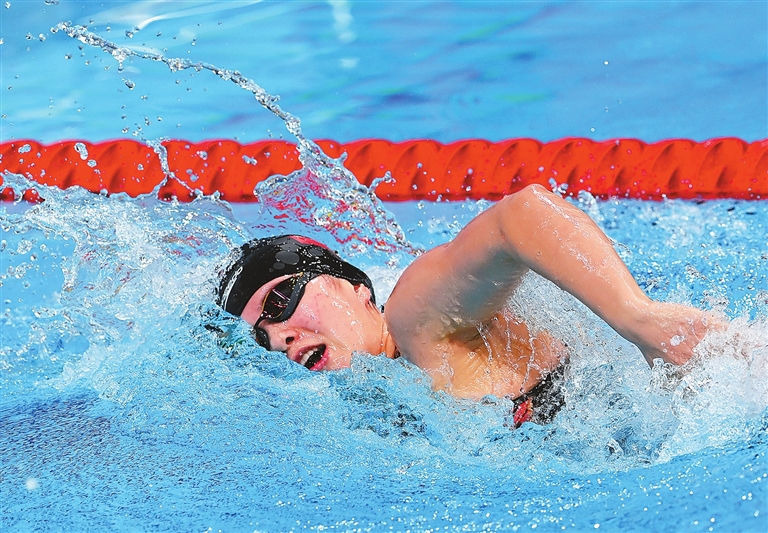 SHENZHEN swimmer Tang Muhan beat Li Bingjie and other domestic celebrities to win the women's 400m freestyle at the 14th National Games in Xi'an, Shaanxi Province, on Monday.
She won with 4:01.95 in the final.
Tang, a Tokyo Olympics gold medalist, also won a silver medal for the Guangdong delegation at the 4x100m women's freestyle relay Sunday.
Three other local athletes, Tao Guannan, Yu Liyan and Li Jiaping won two bronze medals for Guangdong.
On the first day of the swimming competition Sunday, 17-year-old Tao Guannan, ranked first during the men's preliminary 400-meter individual medley and won bronze at the final with 4:17.13.
"I outdid myself in the final, which is unexpected and surprising. I will review the videos to check technical discrepancies with gold medalist Wang Shun, who also won gold at the Tokyo Olympics," Tao said.
Tao, a Shenzhen native, started learning swimming at 7 and joined the Shenzhen swimming team at age 12. He was selected into the Guangdong team in 2020 and this was his National Games debut.
Two Shenzhen athletes, Tang and Lao Lihui, together with teammates Liu Xiang and Luo Youyang, won silver in the women's 4x100m relay with 3:37.55.
"We are excited to participate in the National Games. I started second in the relay, but my teammates and I are satisfied with the result. It is a good start," Tang said.
Other local athletes, Yu Liyan and Li Jiaping, plus two teammates, won bronze in the women's 4x200m medley relay with 8:51.65, following Zhejiang and Shandong teams. Yu was born to a family of swimmers, with her father as a former Shenzhen team coach. Yu started her professional training in 2014 and she was sixth in the 200m butterfly stroke at the Tokyo Olympics. (Han Ximin)