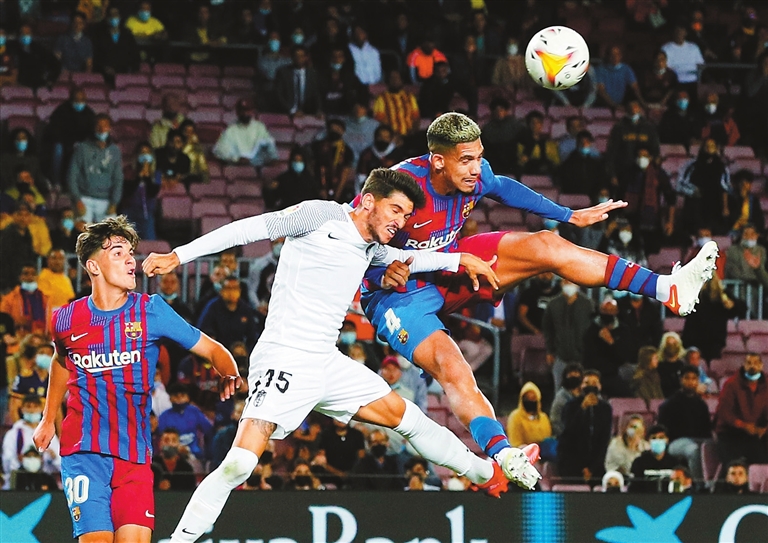 BARCELONA defender Ronald Araujo headed home an 89th-minute equalizer for his side to save a 1-1 draw at home against Granada at the Camp Nou in Barcelona on Monday.
Portuguese defender Domingos Duarte opened the scoring for Granada with another header after two minutes.
Araujo made his front goal at 89, after the Catalans had made more than 45 centers to the area in search of a tie.
"We tried to reach the outside with centers and it is a pity that the goal came so late, because if it came earlier it could have been another story," said Araujo.
"I'm here to help the team, first to have the frame at zero and then if I can join the top, then try to help with goals," he said.
The equalizer leaves Barcelona with eight units in the 7th position of the general table, five less than the leader Real Madrid. Granada is still without a victory and is in 17th place with three points.
The Catalan side faced this duel with the pressure of last week's 3-0 defeat when they hosted Bayern Munich at the start of the group stage of the Champions League.
As a result of that fall, the pressure on the Dutch coach Ronald Koeman increased, who to face Granada made rotations and trusted at the beginning in the young Alex Balde and the Austrian Yusuf Demir.
The Andalusian team surprised by taking the advantage in a play that was born from a poorly cleared corner kick, which Sergio Escudero forwarded to the far post, where Duarte finished down before the failure of the Dutchman Frenkie de Jong to clear.
Sergi Roberto had the best Barca option of the first half with a shot in the area that crashed on the crossbar before the end of 20 minutes.
Moments before the break, Portuguese goalkeeper Luis Maximiano avoided the equalizer with a superb save to a header from Araujo.
Koeman moved the scheme again and replaced Gerard Pique at 75 to play alongside Luke de Jong in attack, thus opting for centers to the area in search of the equalizer.
Araujo found the reward for this strategy when youth midfielder Pablo Martin Paez "Gavi" had the ball and sent it pumped into the penalty area, where Araujo finished him down to shake the nets.
Next, Barcelona visits Cádiz on Thursday and on Sunday they will host Levante in La Liga duels, and next week they will face Benfica in the Champions League, duels that can mark Koeman's future on the bench.
(SD-Agencies)