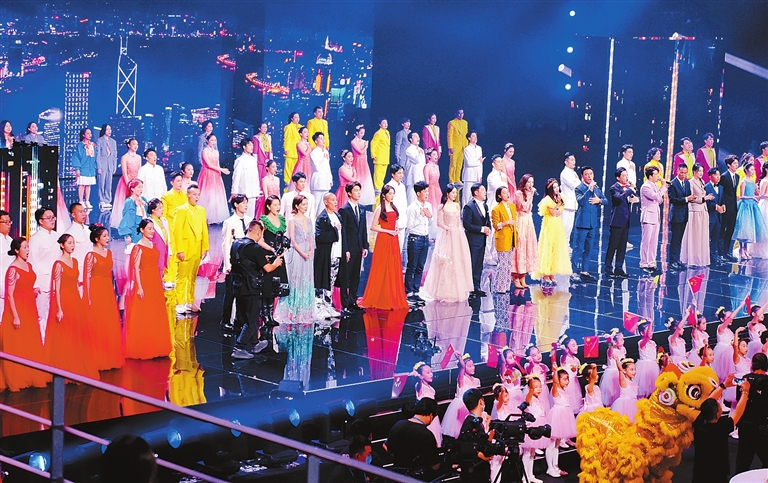 A MOVIE music-themed concert was held Tuesday night at Shenzhen Bay Sports Center in celebration of the Mid-Autumn Festival. Entitled "Bright Moon Shines Above the GBA," the concert invited more than 100 film and music professionals from the Chinese mainland, Hong Kong, Macao and Taiwan to present a fest of music and cultural memories.
For many Chinese people, movie enthusiasts or not, Hong Kong movies and their soundtracks tend to occupy a part of their memories. In this concert, dozens of Cantonese songs from classic Hong Kong movies were featured such as the romantic "Half Moon Serenade" and the inspiring "Below the Lion Rock," with the melodies stirring the audience's nostalgic mood.
The gala's climax was brought about by the theme song "Bay" by singer Faye Wong, which depicts the serene and poetic Guangdong-Hong Kong-Macao Greater Bay Area (GBA) during this festival.
"The GBA is one of the most open and economically dynamic regions in China, and it has a strategic position in the country's overall development plan," said Duan Rong, the concert's director. "Many people in the 11 GBA cities speak Cantonese, and Hong Kong movies and music have been an indispensable part of their childhood and growing-up memories. In this sense, the GBA is not just an economic concept, but also a cultural one. With updated lighting and video technologies and modern presentation methods, we're injecting new vitality to these cultural elements," Duan added.
The concert was jointly held by Bauhinia Culture Holdings Ltd., CCTV Movie Channel Program Center, the Publicity Department of the Shenzhen Municipal Committee of the CPC and Phoenix Satellite Television.  (Yu Yuanfan)