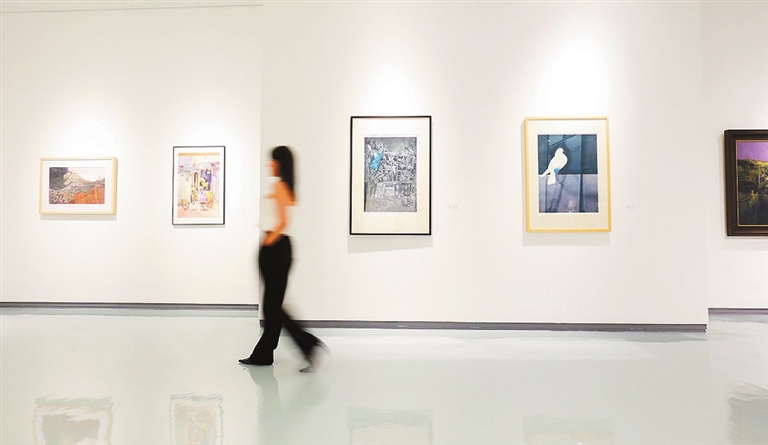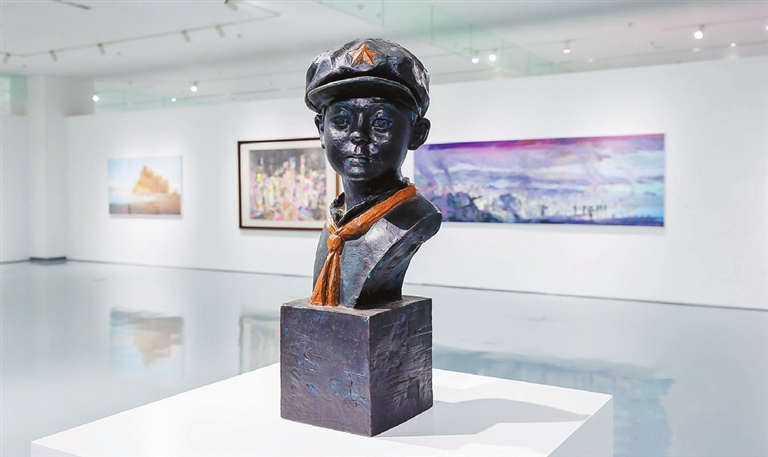 Debra Li
debra_lidan@163.com
THREE exhibitions opened Sunday afternoon at the Art Gallery of Guangming Culture and Art Center to mark its first anniversary.
On the second floor of the complex is an exhibition titled "From Old Revolutionary Bases to Special Economic Zone." First held at Guan Shanyue Art Museum to mark the centennial of the Communist Party of China (CPC), the original exhibition displayed 300 pieces of calligraphy, paintings and photos that manifest the CPC history and achievements of the Chinese people led by the Party. In April and May, the Shenzhen Federation of Literature and Art Circles arranged for local artists to go on field trips to revolutionary bases to inspire them to create artworks, which were displayed at the show.
The Guangming exhibition has selected the fine art works of 69 artists featured in the previous show, and also added works by 12 Guangming artists themed on the life and cityscape of the district. The works include Chinese paintings, watercolors, oil paintings, prints and sculptures by renowned local artists such as Dong Xiaoming, Song Yuming, Zhang Xiaogang and Dai Yun.
One color ink painting by Song, the son of Jiangsu Province painter Song Wenzhi, depicts the historical site of the Dongjiang Column of Guangdong People's Guerrilla Force Against Japanese Aggression in Tuyang in eastern Shenzhen's Dapeng Peninsula. The combination of bold colors and delicate strokes creates a depiction of a rich and elegant cityscape, where white walls and black roofs are half hidden in exuberant kapok bushes and azure skies contrast with indigo waters.
A watercolor and acrylic painting by Zhang captures the scene where in July 1979 a huge explosion blew up the mountains in Shekou to make way for future construction. The artist represents the moment in such a stunning vibrant way that at first glance visitors may mistake the painting for a photograph.
Dai, a sculptor known for his creative use of red bricks in his works, presents a bronze sculpture featuring Pan Dongzi, the son of a Red Army officer and hero of "Sparkling Red Star," a 1974 Chinese movie. With the star on his cap and scarf around his neck painted red, the bronze boy impresses visitors with his glaring eyes and stern facial expression.
On the third floor is an exhibition of 120 calligraphy works by local budding artists; on the fifth floor is a show featuring 50 pieces of artworks by Shenzhen primary and middle school teachers.
The three shows run through Saturday, Sept. 30 and Oct. 17, respectively.
A landmark and important cultural facility in northern Shenzhen, the art gallery, first put into use Sept. 19 last year, has offered the public a wide range of exhibitions, lectures and other events since its inauguration.
Venue: Guangming Culture and Art Center, northeast of the intersection of Guanguang Road and Chuangtou Road, Guangming District (光明区观光路和创投路交叉口东北角光明文化艺术中心)
Metro: Line 6 to Fenghuang Town Station (凤凰城站), Exit B