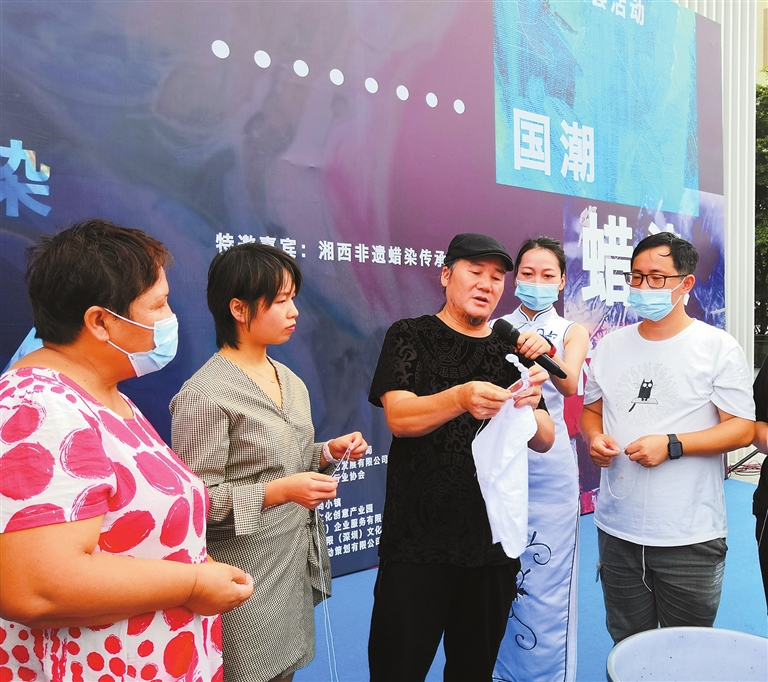 Zhang Yu
JeniZhang13@163.com
A BATIK art exhibition kicked off at Dalang Fashion Town in Longhua District on Thursday and it has showcased the chemistry between the 1,000-year-old Chinese batik culture and the modern Shenzhen metropolis.
The exhibition, a supporting activity of the ongoing 17th China (Shenzhen) Cultural Industries Fair (ICIF) in Longhua, is being hosted by the district's culture, radio, television, tourism and sports bureau.
Wang Yao, vice chairman of Hunan Province Folk Art Research Association and successor of Chinese intangible cultural heritage batik, came to the exhibition and displayed his batik artworks in a fashion show.
As a master craftsman who has been engaged in batik design and production for more than 30 years, Wang has been committed to the research of Chinese batik art in western Hunan.
Wang mentioned that batik is the traditional treasure of the Miao ethnic group in western Hunan. It is also the epitome of the area's folk life, he said.
"The batik totems are inclusive, encompassing not only the natural scenery characteristics of Miao villages, flowers, birds, insects and fish, but also cultural elements such as semicircles, sawtooth and hooks. Each totem symbolizes the Miao people's awe of nature and longing for a better life," said Wang.
In addition to the fashion show, Wang also explained and demonstrated the batik creation process in detail.
Wang designed a Miao totem on the spot by dipping a copper knife in warm beeswax, drew lines on the white cloth, soaked it with indigo after the wax solidified, and boiled it with rinsing soap, after which a lifelike batik canvas was presented in front of the audience.
Wang also brought some batik works from his hometown in western Hunan for display at the art exhibition, where areas have been set up to demonstrate how the batik culture is skillfully integrated into the life scenarios via pioneering experiments.
The batik art exhibition will last for three days in Dalang Fashion Town, where batik artists and fashion industry experts would gather to discuss the inheritance of ancient folk art and the industrialized development of traditional culture.