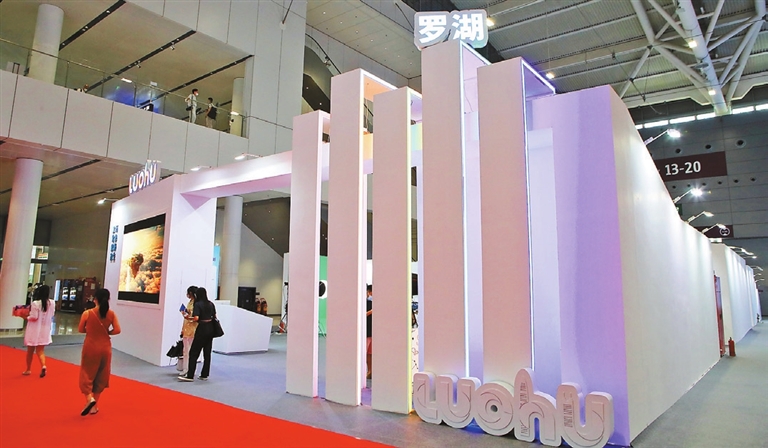 Wang Jingli
wangjingli0715@163.com
LUOHU District has set up a booth at the Guangdong-Hong Kong-Macao Greater Bay Area Hall (Hall 12) at the Shenzhen World Exhibition & Convention Center in Bao'an District, showcasing its cultural treasures during the 17th China (Shenzhen) International Cultural Industries Fair (ICIF) that ends today.
The district's cultural achievements and products were exhibited specifically by six sectors, namely digital creative, industrial arts, gold and jewelry, creative design, artwork auction and copyright. The total exhibition area covers 546 square meters.
A Luohu booth staffer surnamed Wang told Shenzhen Daily that her company, known for the brand Zombies Cat, moved to Luohu's Cartoon and Animation Base two years ago. According to the company, Zombies Cat, a cat-based cartoon character, is committed to becoming a world-class local Chinese intellectual property (IP). Currently, its IP has been authorized for commercial use in over 100 categories, including clothing, digital 3C and consumer products. The company's partners are Huawei, Dell and Zippo.
When asked about support received from Luohu District, Wang said that the district offered rental and policy subsidies to help them survive during the pandemic. "The district also gave us help to connect to other business opportunities and supported us to go out," Wang added.
Another Luohu booth exhibitor, Hetai Cultural Development Co. Ltd., appreciated the district's policy support and introduction to more industrial resources. "Luckily, more attention has been given to the animation and cartoon industry in recent years," said Wang Haoru, a staffer from Hetai. "We provide comprehensive services for animation derivative products. As we are based in Luohu, we have advantages in manufacturing given the number of factories in the area."