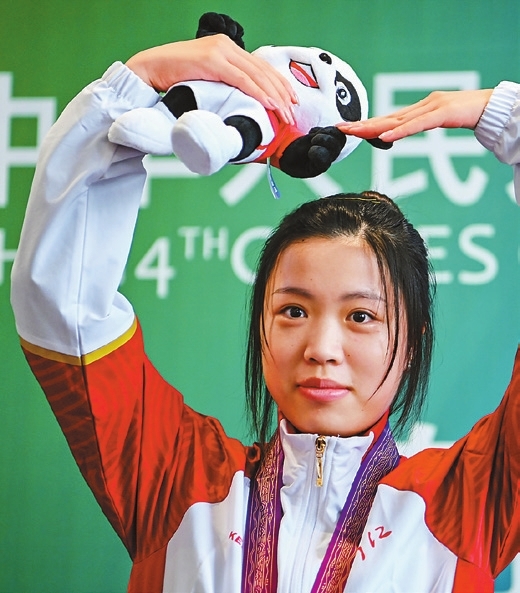 MANY young athletes have caught the eye at China's 14th National Games. In addition to their outstanding performances, their status as student athletes has attracted wide attention.
Olympic shooting gold medalist Yang Qian, a student from Tsinghua University, became a trending topic during the National Games on social network Weibo. Her every move triggered an upsurge of attention.
Two months ago, when Yang grabbed the first gold medal for China at Tokyo 2020, more than 3 million people took to her Weibo account to congratulate her. During the National Games, she became even more popular.
Yang is not the only student athlete with a notable public profile. Gui Ruyi, a high school student from Hefei, capital city of East China's Anhui Province, ran in the women's 800m final in the National Games. "This is awesome! As a high school sophomore, Gui's good performance in Xi'an can encourage many teenagers to get into sports," gushed a Hefei media outlet.
Fencer Song Yue, 17, is also a student athlete, and reached the women's foil last 32 at the Games. "It's exciting to come to a top-level competition like the National Games," she said.
In 2020, Song, who started practicing foil at 6 and trained three times a week for two hours, was selected into the national team.
"I usually take my online classes at noon or in the evening after a daily training routine. Striking a balance between learning and training is not easy," said Song.
Yang Lihao, a 14-year-old national rock climbing champion from Shanghai, had a busy schedule at the Games. Just one day after he claimed gold in the combined Lead and Boulder under-16 event, Yang took a flight to New York to study abroad. In order to participate in the National Games, Yang postponed his original plan to go abroad in August, and had once again changed his flight after the competition was delayed due to weather conditions. (Xinhua)