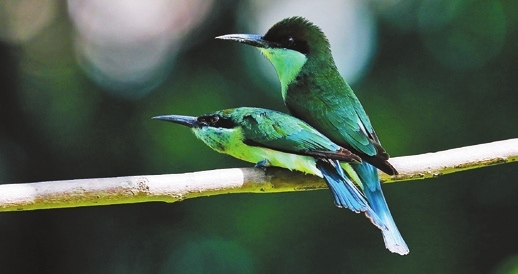 A PAIR of blue-throated bee-eaters (Merops viridis), claimed as "the most beautiful bird in China," were spotted mating at Huanggang Park in Futian District on Friday, Shenzhen Evening News reported.
This marks the second time it was spotted in the city since the same period last year, according to the report. The blue-throated bee-eater is a national second-class protected animal.
Citizens reported to the News that they discovered these birds in Huanggang Park on Sept. 22 and two days later, on Friday, a News reporter spotted two at the lawn north of the park. The reporter observed that the two birds are juveniles and seemed highly adept at preying on insects like wasps and dragonflies.
In addition, the report states the birds were a couple as they were also spotted mating. The birds didn't even budge when the reporter tried to get closer by at least 3 meters away to film them.
On Sept. 20 last year, bird lovers said that they saw a blue-throated bee-eater in Futian ecological park. However, Shenzhen Bird Watching Society has not confirmed whether the bird was wild or not. As with the case of the blue-throated bee-eaters, the society is being cautious and will follow the case closely.
Experts from Guangdong and Shenzhen wild animal protection departments have confirmed it as the city's newly recorded bird species after being spotted for two consecutive years during the fall migratory season.
Shenzhen Bird Watching Society's secretary general, identified as PT, said that "Guangdong has banned wild bird hunting since Jan. 1, 2019, and Shenzhen has seen a better ecological environment in recent years. This means there might be more bird species appearing in the city."  (Wang Jingli)