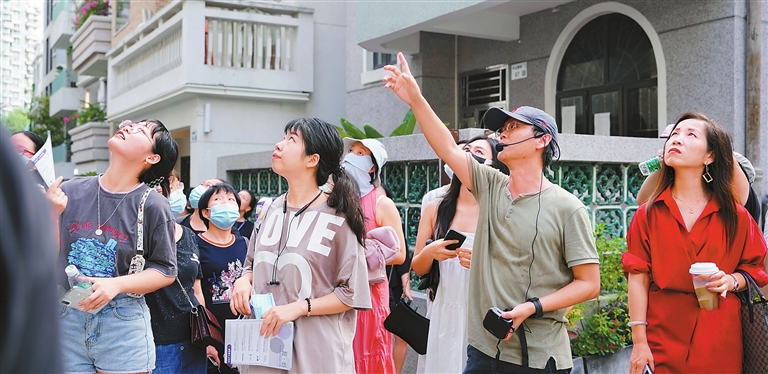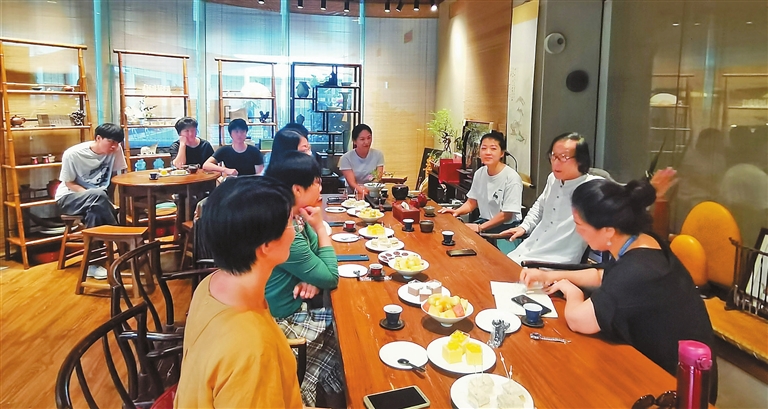 Li Dan
debra_lidan@163.com
BEST known for its high-tech sectors and home to unicorns and tech giants like Tencent and Mindray, Nanshan District over the years has also invested a lot of effort in protecting historical sites and promoting traditional Chinese culture. A series of events organized by Nanshan authorities during the 17th China (Shenzhen) International Cultural Industries Fair (ICIF) in the district has put that effort in the limelight.
On Thursday afternoon, a group of interested citizens attended a field trip around the recently restored Nantou Ancient Town led by Wu Shouwang, chief designer of the restoration project.
Nantou Ancient Town, with a history of more than 1,700 years, in ancient times was the site of a township under the jurisdiction of Guangzhou. The layout of an east-west street with six small lanes has existed since the Yuan Dynasty (1271-1368). The site is a good example of a living history, said designer Wu. The place has undergone four major renovations since the founding of the People's Republic of China in 1949. Recent efforts include a partial renovation in 2017 during the Shenzhen and Hong Kong Bi-City Biennale of UrbanismArchitecture and an overhaul carried out last year designed by Wu's team and implemented by Vanke.
"With a respect for local culture and history, we made a lot of effort keeping the ancient buildings and plants, and transformed an urban village into a cultural and art block with historical appeal," he said. Along the neatly renovated north-south street in Nantou Ancient Town are small eateries, dessert shops, cafes, boutiques, souvenir shops and a museum where people can learn about the history of the area. The original layout of the block was preserved throughout the restoration.
Wu said his team had originally planned for the small plaza and an adjoining area outside the gate of the ancient town to be rebuilt, but decided to leave it alone after relics were found at the site dating back to the East Jin Dynasty (317-420).
On Friday, dozens attended a lecture on the refined civilization of the Song Dynasty (960-1279) by local scholar Hu Yeqiu.
The Song Dynasty carried on the elegant rituals of tea drinking started during the Tang Dynasty (618-907), continuing to enjoy it as a leisurely and social beverage, Hu said. The complex and formal tea etiquette from the previous dynasty was carried on, while new rules of hospitality, preparation, and serving of tea were created. Different from the method of cooking tea of the Tang Dynasty, a new way of tea drinking was invented; "diancha" refers to pouring water on tea powders several times. Japanese monk Rongxi brought this practice to his home country, which had a profound impact on the Japanese tea ceremony.
When presented with a bowl of tea, our ancestors would notice and reflect upon the tea as well as the ceramic utensils. The ceramics used in this context — tea bowls, water jars, flower vases, tea caddies, and so forth — were functional tools valued for their practicality as well as artwork for their aesthetic qualities.
"Song Dynasty's ceramics are appreciated for their straightforward shapes and are mostly characterized by light-colored, subtly-hued glazes, proof of their taste for simplicity and a true-to-life attitude," Hu said.
The literati of the Song Dynasty pursued an elegant lifestyle, spending time playing instruments, burning incense, drinking tea and liquor, admiring flowers and writing poems and songs, which gave rise to an array of refined cultural legacies. Today, we can still appreciate the prosperity and happiness of people from that period through literature, Ru ceramics and paintings.
On the sideline of the events organized by Shenzhen Publishing Group, a photo exhibition featuring historical sites, intangible cultural traditions and high-tech achievements of Nanshan is held at the Easyread Books outlet at Zhongshan Park.