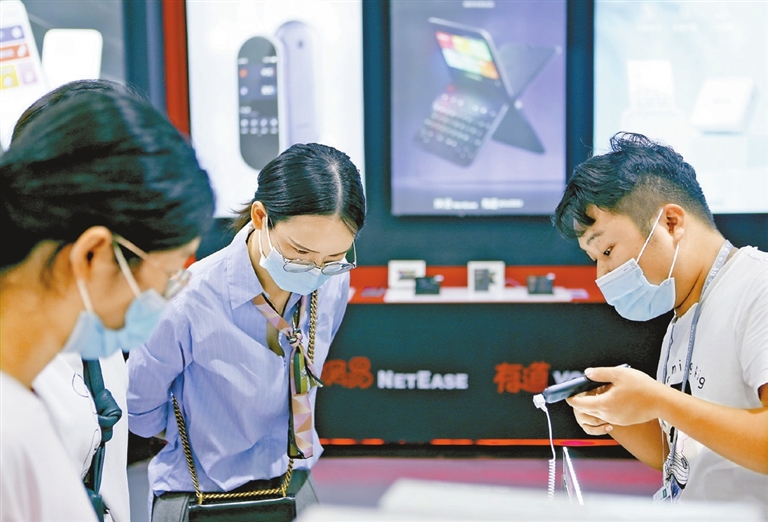 THE 20Visitors are seen at "The Light of Internet" expo held at the summit in Wuzhen, Zhejiang Province, yesterday. Xinhua21 World Internet Conference Wuzhen Summit focusing on digital civilization closed yesterday in Wuzhen, East China's Zhejiang Province.
As the digital age has brought extensive and profound impacts on human society, China has taken a responsible approach to promote global governance in cyberspace, making cyberspace better benefit humanity.
The summit has become an epitome illustrating China's responsible role in global cyberspace governance.
The conference, which includes some 20 forums, has offered experts at home and abroad a platform to share wisdom on cyberspace governance as well as other internet-related topics.
More than 2,000 representatives from 96 countries and regions, including over 600 foreign guests, attended the event themed "Towards a New Era of Digital Civilization — Building a Community with a Shared Future in Cyberspace" online and offline.
An expo titled "The Light of Internet" was also held as part of the summit, attracting more than 300 renowned companies and institutions. Twenty sub-forums covering topics like 5G, artificial intelligence and next-generation internet were held during the summit.
A total of 14 world-leading internet scientific and technological achievements were unveiled and two reports on the world internet development and the China internet development, respectively, were released during the summit.
According to the China internet development report released by the Chinese Academy of Cyberspace Studies, the country's digital economy grew 9.7 percent year on year to 39.2 trillion yuan (US$ 6.07 trillion) in 2020, accounting for 38.6 percent of the country's total GDP.
China has been actively sharing its digital dividends with the rest of the world. The country has offered digital aid in the forms of technology, equipment and services to less developed countries. China's digital trade with countries along the Belt and Road has maintained strong momentum in recent years. (Xinhua)