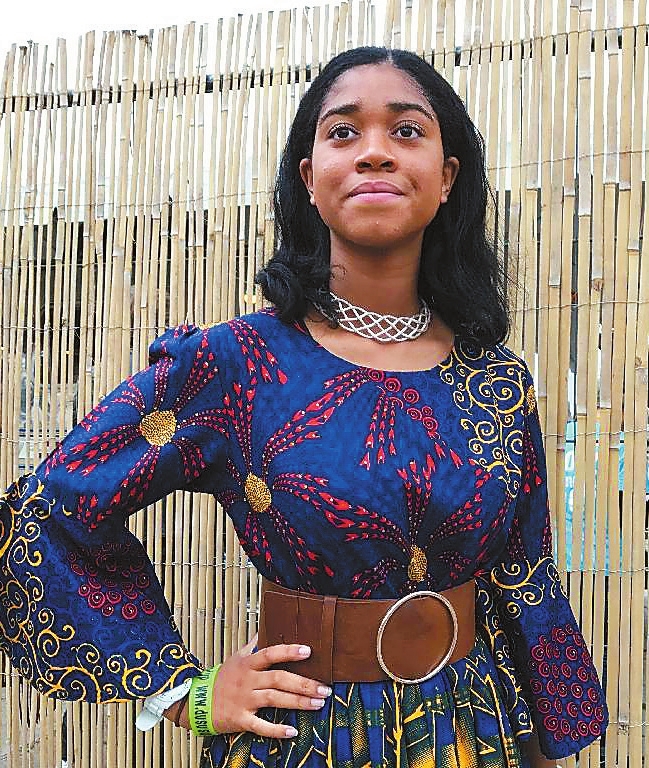 Zuriel Oduwole is a diplomat, a documentarian, an influencer and the co-founder of a nonprofit fighting for equal access to education for girls and ending child marriages around the world.
Oh, and she just turned 19 in July.
U.S. Santa Clarita resident Oduwole is junior at UCLA studying cognitive development, where her classmates may not be aware that she's traveled around the planet, been deeply engaged in United Nations programs and has made seven documentary films that have earned awards and screened around the world.
Since she started her journey half of her lifetime ago, Oduwole has met with more than two dozen world leaders, presidents and prime ministers — and, remarkably, they have listened, acted upon her advice and kept inviting her back to their countries on their dime.
Her international activism started at age 9, when she launched into a documentary in Africa for a school competition.
"I made a documentary on the Ghana revolution because the topic was revolution in history, and I wanted to cover a revolution that the rest of my peers wouldn't be covering," she said. "So, I went to Ghana to film some scenes."
She interviewed two former presidents of the African nation for footage that would become her film "The Ghana Revolution." Seeing young women in Africa without access to education stirred her passion — and spoken it in dozens of countries including South Africa, Fiji, Samoa, Jamaica and the Marshall Islands, as well as in the United Kingdom and the U.S.
At 14, she was honored by former U.S. Secretary of State John Kerry for her educational advocacy work. In 2019 she lobbied to end child marriages in Mozambique. She's also worked with Arab leaders to engage younger citizens in Egypt.
She was profiled by Forbes magazine at age 10, been interviewed by myriad media outlets and Elle included her among "33 Women Who Changed the World."
Her proud father, Ademola Oduwole, always urged his children to watch the global TV news, though it wasn't necessarily his intention to spark such high-profile activism.
"We just wanted them to think laterally, not just vertically," he said.
Neither of her parents are engaged in world politics. Her dad once worked in Fiji in tourism and her mom is a computer programmer. But they are no strangers to world travel and they encouraged their children to take an interest in international affairs.
"I think we all are gifted in different things," Oduwole said. "We simply have to find our gifting, and no one can touch us in our chosen lane if we find our calling. I am a simple girl, a California teenager, who simply sees things differently and speaks up clearly."
In August, the young but experienced activist strongly contemplated throwing her hat in the ring for the September gubernatorial recall election in California, because "Who says a teenager can't be governor of California if she has the right credentials?"
She didn't pull the trigger because she needed to raise a lot of money to spend on media, advertisement, billboards and all the political accouterments — a pricey process that she didn't believe had any immediate value.
She isn't ruling out a political career later. And she's already gotten plenty of experience in diplomacy and public speaking.
In 2017, she spoke in Paris at a social development event targeting the youth of France about the importance of their voices along with Bill and Melinda Gates and Ndaba Mandela, the grandson of Nelson Mandela.
At age 13, she was invited to speak at the United Nations to help negotiate peace between Guyana and Venezuela, two countries in dispute over the Essequibo Oil territory for decades and at a time when conversations were escalating. She often speaks with world leaders at the United Nations in New York and Paris for instance and sometimes in their home countries.
"Now if you ask the average person how a 13-year-old is mediating peace, they'd say that's impossible, they are too young but I was doing it," Oduwole said. "Even at 14, I met John Kerry at the State Department discussing global issues. Again, would you expect a 14-year-old to be discussing global issues with a leader like that but again it shows that it's just not about age."
Oduwole was born in Los Angeles. The oldest of three children, she grew up playing soccer, basketball and volleyball and was homeschooled most of her life.
She and her younger sister founded the nonprofit Dream Up, Speak Up, Stand Up. Its primary mission is to end young-girl marriages and shine a light on how many girls around the world are denied the basics that their male counterparts enjoy.
(SD-Agencies)