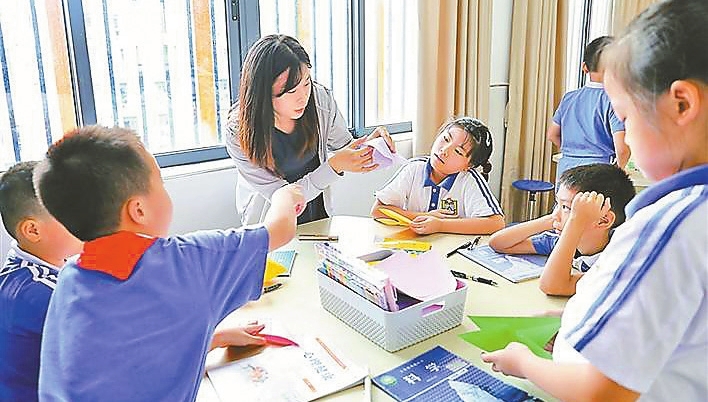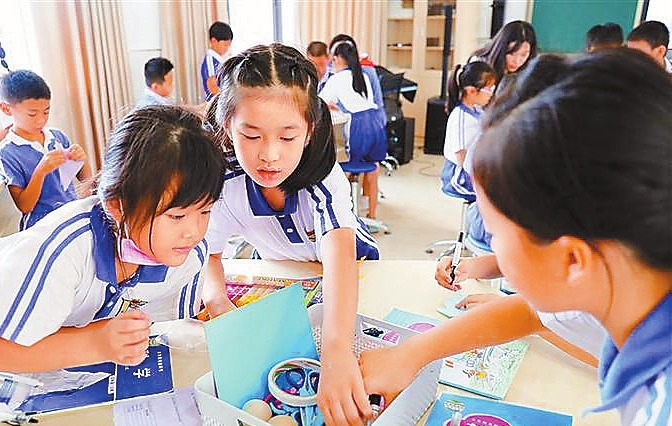 Every school in Shenzhen has tried to come up with extracurricular activities and workshops this fall semester since the Chinese authorities published guidelines to reduce the burden of homework and off-campus training for primary and junior high school students.
While Chinese children, especially those who are the only child in urban families, have long been criticized for lacking the basic housework skills, Longgang Lecheng Primary School has come up with a new home economics course combined with traditional Chinese culture.
"Around the time of the autumn equinox, the weather starts to change," Ling Jie, head teacher of a grade 3 class told her students. "Our ancestors noticed that thunderstorms become rare, insects become hidden from our sight and the water in rivers and lakes begin to ebb at that time."
Taught by Ling and fine arts teacher Li Lina, the course combines teaching with making handcrafts and playing games and is welcomed among students. Li taught students to make a paper crab, and paint and decorate eggs, while Ling taught students a poem by Tang poet Du Fu and showed them a video clip of how to cook a traditional vegetable soup especially for the occasion of the autumn equinox. The students were also given an assignment to cook their own soup back home, while their parents were asked to evaluate the dish they made.
The previous home ec class focused on white dew, the solar term that falls on September 7-9. Following the syllabus, the students learned to make a crystal bracelet and brew tea for the occasion.
"The flexible and interesting arrangement of the class helps students learn a lot about Chinese culture," Ling said. "They quickly learned to recite the nursery rhyme '24 Solar Terms.'"
Liu Tao, an official with the school, said students' homework was displayed on the day of the autumn equinox, and included paintings, essays about the time and videos of them cooking at home.
"The syllabus for this home ec course is compiled by head teachers, science teachers and fine art teachers of our school," Liu said. "The plan is to teach relevant cultural traditions and home ec skills a week before each solar term arrives."
Since its founding in 2016, the school has been promoting the teaching of housework skills. The school has arranged for events like cooking week, decluttering week and cleaning week on campus to encourage students to participate in housework and learn the basic skills of life.
Solar terms, also called "jieqi" in Chinese, are days marking each of the 24 time periods of the solar year according to the traditional Chinese calendar, and were used to indicate the alternation of seasons and climate changes in ancient China. They are a unique component and creative invention of the Chinese traditional calendar.
China's 24 Solar Terms were added to the United Nations Educational, Scientific and Cultural Organization's (UNESCO) world intangible cultural heritage list on November 30, 2016.
The solar terms-themed home ec course is taught in all 24 classes from grades 1 to 6 at the school. (Li Dan)