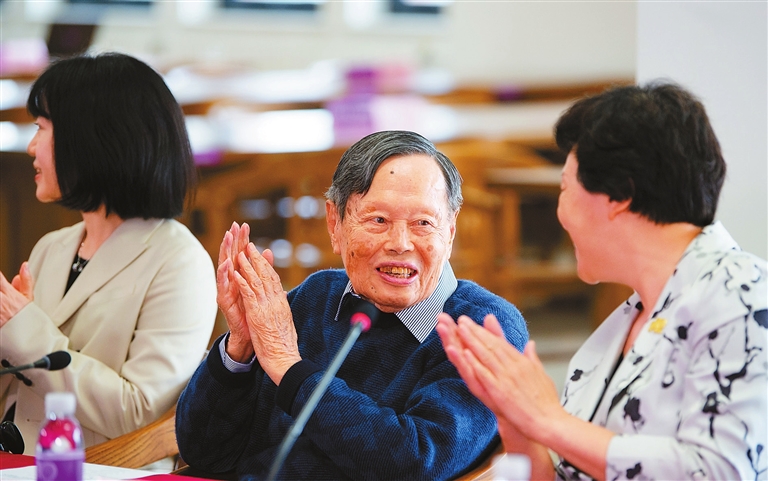 Zhang Yu
JeniZhang13@163.com
ON July 15, 1971, a 48-year-old man flew from New York to Paris and obtained a special visa to China. Four days later, with great excitement, he boarded a plane from Paris to Shanghai to return to his motherland after being away for 26 years.
The man is Chen Ning Yang, the first renowned Chinese-American scholar to visit the People's Republic of China. Yang received the Nobel Prize in Physics in 1957 at the age of 35, with Tsung-Dao Lee, for work on the so-called parity laws, which led to important discoveries regarding elementary particles.
Yang also made his name known in the physics world for his collaboration with Robert Mills in developing a gauge theory of a new class. "Yang-Mills theory" is now a fundamental part of the Standard Model of particle physics.
The visit to the motherland was mind-blowing for Yang. Setting foot once again on Chinese soil, Yang felt in person the earth-shaking changes that had taken place in China over the previous 26 years, and saw the country's science and technology forging ahead by leaps and bounds.
"That visit was an extremely important part of my life, because it made me gain some understanding of New China for the first time, which has had a great impact on the trajectory of my life in the next 50 years," said Yang.
Yang made the remarks at a seminar on his academic thoughts, which was dedicated to celebrating his 100th birthday and was co-hosted by Tsinghua University, the Chinese Physical Society, and the Chinese University of Hong Kong in Tsinghua University in Beijing on Sept. 22.
Returning home
Yang, who spent his childhood in Tsinghua University, would not have expected that he would return to the university as the honorary director of the Center for Advanced Study, Tsinghua University on June 2, 1997, when he was over 70 years old.
Yang was born Oct. 1, 1922, in Hefei of East China's Anhui Province. His date of birth was mistakenly written as Sept. 22, 1922, on his passport in 1945, according to a recent Xinhua report.
Yang was brought up in a peaceful and academically inclined atmosphere of the campus at Tsinghua University, where his father was a professor of mathematics.
In 1942, Yang graduated from the physics department of National Southwest Associated University in Kunming, Yunnan Province. He received his master's degree at Tsinghua University in 1944 and went to the United States to further his studies on a scholarship funded by the Chinese Government.
The Nobel Prize-winning physicist had visited Tsinghua University several times and put forward suggestions on the university's development since his first visit to China in 1971.
At the inaugural meeting of the Center for Advanced Study, Tsinghua University, Yang said that he believed there was possibility that the center would make significant contributions to world science and technology in the next 10, 20 and 50 years.
Yang officially retired from Stony Brook University, New York in 1999. After returning to China, Yang started working at Tsinghua University in 2003.
The common journey
At the seminar on his academic thoughts Sept. 22, Yang delivered a speech under a special title with profound implications. The title was a sentence selected from a letter written to Yang by his bosom friend Deng Jiaxian, the father of China's atomic and hydrogen bombs.
In the letter, Deng had quoted Chinese poet Su Shi's famous line "Will live long as he can! Though miles apart, we'll share the beauty the moon displays" and rephrased it into "Will live long as he can! Though miles apart, we'll share a common journey."
"I didn't understand this line after reading the letter. What does 'Though miles apart, we'll share a common journey' mean? I thought about it later and knew that it has deep meanings.
"After the publication of this letter recently and after reading it carefully, I feel that after 50 years, I can say to Deng Jiaxian: Jiaxian, I understand what you mean by saying 'the common journey,' and I can confidently tell you that I live up to your expectations in these 50 years and I believe you will also be satisfied," Yang said in his speech.
It is not difficult to understand why Yang has responded to Deng this way, as they share the common patriotism and scientific aspirations for the country.
In 1964, China successfully exploded its first atomic bomb, sending the whole country into jubilation.
Seeing this news in the U.S., Yang was proud of Deng's achievement, but he was also eager to confirm whether China's atomic bomb was independently developed, as American newspapers had reported that Joan Hinton, one of the few women scientists who worked for the Manhattan Project, was invited to help China build an atomic bomb. Hinton was a friend of Yang, and came to China in 1948, Yang said in his speech.
During his four-week stay in China in 1971, Yang plucked up the courage to ask Deng the question, and he got the exhilarating answer from Deng's letter.
"When I grew up, when my father and his generation grew up, China was bullied by foreign countries due to lack of modern advanced weapons. I hope that China's first atomic bomb was made by the Chinese themselves," said Yang during an interview with State television broadcaster CCTV.
According to Yang's brother Yang Zhenhan, he could still recall how the letter from Deng had stirred up emotions in the Nobel-laureate physicist. In the letter, Deng told Yang that there were basically no foreigners involved in the design of China's first atomic bomb. "My brother cried after reading the letter," Yang Zhenhan told CCTV.
Looking long-term
Yang, an outstanding scientist with a Chinese heart, has always harbored deep feelings for China, and continues to contribute his wisdom and strength to the country's scientific and technological development and talent training.
Since his first visit in 1971, Yang had returned to China almost once or twice a year, bringing not only cutting-edge knowledge to China's physics community, but also actively contributing ideas to the development of the nation's science, technology and education during his talks with country leaders.
In 1980, by raising funds from Hong Kong and the U.S., Yang established an education exchange committee to provide financial assistance for visiting Chinese scholars. These outstanding talents, in turn, have injected new vitality into China's scientific and technological development.