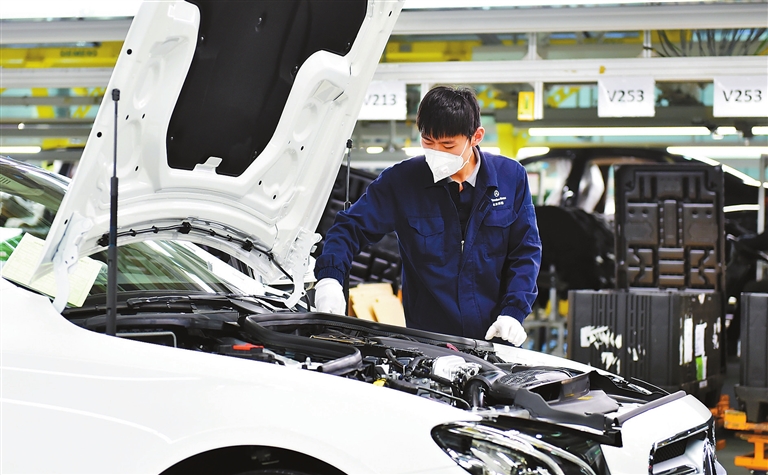 MERCEDES-BENZ, the German company founded by the inventors of the motor car, is pouring more resources into its cutting-edge research and design capabilities in China as the center of gravity of the new auto world shifts eastwards.
In a drive to create a "home away from home," Mercedes-Benz is doubling down on bases in Beijing and Shanghai to stay ahead of regulations and consumer trends in a car market that outstrips the United States and Germany combined.
Three years after initially announcing plans to strengthen its research and development (R&D) in the country, the luxury car brand owned by Daimler will unveil its new tech center in Beijing this month.
With 1,000 engineers, the new tech center is more than three times the size of the one Mercedes-Benz opened in 2014 and the first outside Germany that can test "everything," putting it more "on par" technically with the far bigger R&D headquarters near Stuttgart, Reuters quoted sources as saying yesterday.
Mercedes-Benz has also invested significantly in upgrading its Chinese design studio and has moved the whole team from Beijing to Shanghai.
Mercedes-Benz has good reason to elevate its Chinese operations.
Its car sales in China jumped 12 percent last year to a record 774,000 despite the pandemic, streets ahead of its next two markets, Germany on 286,000 and the United States with 275,000.
About 80 percent of the cars it sold in China were also made here, typically with an array of China-only features and models, and Asia overall accounted for almost half its global sales in 2021.
China's auto market, the biggest in the world since 2009, is expected to carry on growing steadily, with demand forecast to reach 35 million vehicles by about 2030 versus 25 million now.
But Mercedes-Benz, like all foreign automakers in China, is under growing pressure from local electric vehicle startups such as Xpeng, Li Auto and Nio and their stylish vehicles with high-tech features tailored to Chinese consumers.
That's why the German carmaker's "second home" strategy for China is focused on making its design and technology more agile, to respond quickly to the ever-shifting landscape and to firmly entrench the Mercedes-Benz brand, the report said.
"The expectations in China are for the in-car experience to be served by a localized digital services ecosystem, and such solutions must be conceived and built by people that live in China and truly understand the mobile internet," said Bill Russo, head of consultancy Automobility Ltd in Shanghai.
Mercedes-Benz customers in China are 36 years old on average — roughly 20 years younger than in Germany — and are more tech-savvy, but they are not as loyal, hopping from brand to brand as trends shift.
Mercedes has spent 1.1 billion yuan (US$170 million) upgrading the center, with much of the investment ensuring it can do an array of testing locally — rather send new technologies back to the Sindelfingen headquarters in Germany.
"A key reason for the expansion is to gain the proximity to those customers and their needs," the source said.
Mercedes has also added functions deemed important for Chinese customers, such as a team dedicated to intelligent, connected electric vehicle technology.
"Tech savvy customers here require that you're very local in terms of intelligence, connectivity and autonomous driving," one of the sources said.
(SD-Agencies)