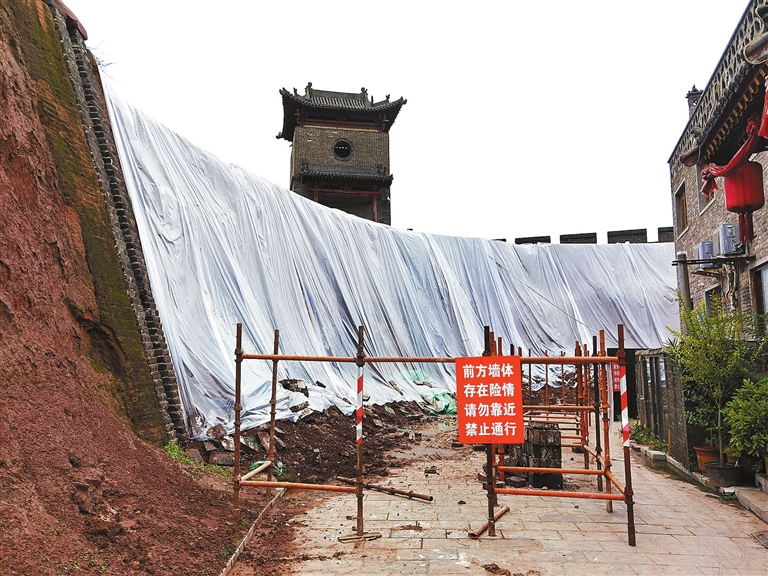 CONTINUOUS heavy rainfall in North China's Shanxi Province is posing a threat to thousand-year-old cultural relics.
Many ancient buildings in the province have been severely affected by the downpours that began from Oct. 2, according to the provincial cultural relics bureau.
The wall of the ancient town of Pingyao, a UNESCO World Heritage Site located in Pingyao County, partially collapsed Oct. 5, local authorities said. The partial collapse, measuring 25 meters in length, occurred at an inner-wall section of the town, causing no casualties.
Established in the 14th century, the entire town of Pingyao is enclosed by walls, with residences and architecture from the Ming (1368-1644) and Qing (1644-1911) dynasties nestled inside.
The rainfall also led to damage at over 300 residential buildings in the ancient town, and the residents were quickly evacuated, Lei Yaxian, director of the county's cultural relics institute, said.
According to Lei, the emergency repair procedures were launched immediately. Officials and cultural relics protection experts rushed to the scene to prevent another collapse and protect the safety of residents and tourists.
Famous Chinese filmmaker Jia Zhangke has been in the city in recent days for the fifth Pingyao International Film Festival that is scheduled to open Oct. 12. Jia appealed for the quick repair of the cultural relics and more attention to be paid to the damage caused to ancient buildings located in remote areas of the province.
Nicknamed "the museum of ancient Chinese architecture," Shanxi is home to over 50,000 unmovable cultural relics, including 30,000 ancient constructions.
The ancient buildings in the province are mostly wooden structures, said Bai Xuebing, an official with the Shanxi Culture Relics Bureau, which make them more vulnerable to natural disasters, such as floods. The large flow and high velocity of the floods, often carrying large amount of sand, could easily cause severe damage to the structures, Bai warned.
In addition to Pingyao, cultural relics such as Jinci Temple in Taiyuan City and Guandi Temple in Yuncheng City have seen water leaks because of the heavy rains. Both cultural relic sites are under State protection.
The 1,400-year-old Jinci Temple, dating back to the Northern Wei Dynasty (386-534), is regarded as the most prominent temple complex in the province.
Guandi Temple was first built in the Sui Dynasty (581-618) to commemorate Guan Yu, a renowned general in the Three Kingdoms period (220-280). It was reconstructed and expanded during the following dynasties.
According to Wenbo Shanxi, an official WeChat account of Shanxi Evening News, the funds for protecting the cultural relics in Shanxi have increased from 10 million yuan (US$1.5 million) per year to 170 million yuan.
So far, 1.75 million people in the province have been affected by the floods, according to the provincial department of emergency management. Flood control and relief work is ongoing.
(CGTN)