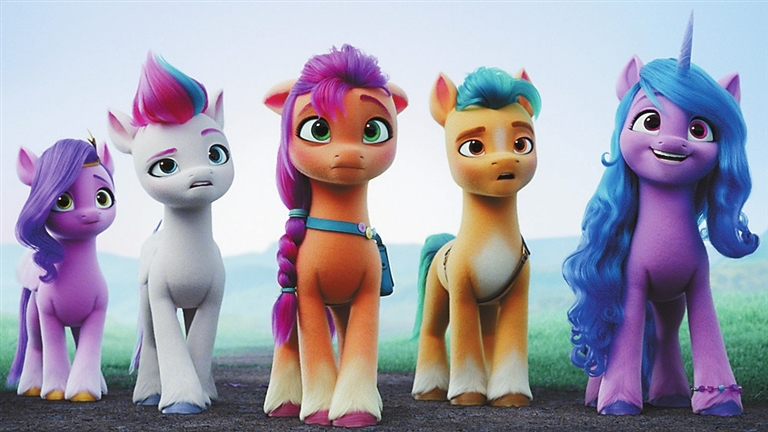 Two years since the saga of "My Little Pony: Friendship Is Magic" came to its satisfying end, "My Little Pony: A New Generation" lays the foundation for a new cohort of cutie-marked heroes.
The movie takes us to a divided Equestria, where the ponies, pegasi and unicorns distrust each other and keep to themselves. Of course, there's one young pony, Sunny Starscout (Vanessa Hudgens), who defies the status quo and longs to see Equestria reunited. Her chance comes when she meets an actual unicorn, Izzy (Kimiko Glenn), and the fast friends embark on a quest to bring back the magic of friendship.
Directors Robert Cullen and José L. Ucha, along with co-director Mark Fattibene, give their picture a cinematic texture — best showcased in sequences such as Sunny and Izzy's getaway from a sticky situation in which the pair must dodge slime balls that splatter on the virtual camera lens, and the big musical numbers where a fluid, clear-eyed visual dexterity meshes effortlessly with the perky, pop-infused soundtrack.
The saturated color story reflects narrative changes in tone, cooling during sorrowful moments. The filmmakers give each of the environments a distinctive individuality: Zephyr Heights is populated by lavish, golden-trimmed art deco architecture mirroring the Pegasi's beauty; the unicorns' land, Bridlewood, is a vibrant fairytale forest humorously contrasting their current spell of lethargy; and the ponies' Maretime Bay is a quaint, cozy hamlet reflective of their traditions.
When it comes to character, there are some noticeably disappointing aspects. There are no consequences for those in power positions who've defrauded the public. Sprout, who turns into a dictator when Hitch is away from his post, gets off scot-free, as do his mom Phyllis, Queen Haven and Pippa. Though that creative decision may be aligned with the ponies' magical power of forgiveness (which isn't shown), or is an oversight full stop, it's a misguided notion nonetheless delivered to the film's younger audience. Plus, the third act climax gets unnecessarily tied up in itself, where a simpler, streamlined resolution would've been more beneficial.
Still, with its resonant sentiments on conquering fear, obliterating bigotry and bravely facing adversity, the cartoon finds its strength and emotional draw. Life-lessons dispensed on harnessing personal talents and gifts for the greater good are modestly moving. The entertaining and imagination-capturing adventures are not only enough to launch another beloved herd of hooved heroes; they should create a new generation of kid consumers in the process.(SD-Agencies)