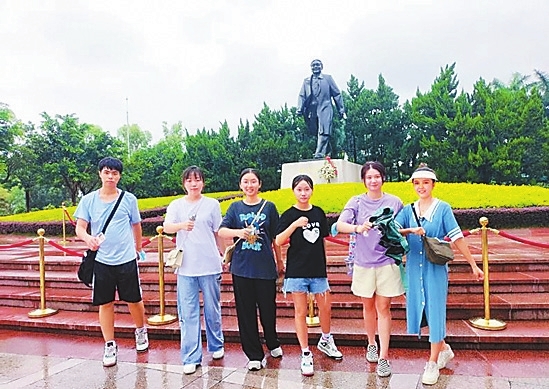 While most people spent their seven-day National Day holiday traveling around, students from Shenzhen Polytechnic chose to get immersed in red history and culture by visiting historic landmarks and red-themed exhibitions, watching revolutionary movies, reading revolutionary classics, and so on.
"Before I didn't even know we have so many historic sites in Shenzhen such as the Dongjiang Column Memorial Hall and Chen Yu's former residence. As a university student, I want to visit all of them when I have a chance," said Zhang Jiaxin, a freshman at Shenzhen Polytechnic.
The School of Management put on screen four patriotic movies to educate students on the history of the Communist Party of China and red culture. The four movies were "The Founding of a Republic," "The Eight Hundred," "Wolf Warrior" and "My People, My Country."
"Each movie showed our Chinese people's ever-lasting love for our motherland. Our former generations sacrificed tremendously for what we have today, so we must be grateful and keep working hard," said Yuan Zhiwei, a veteran graduate of class 2019 with a major in Ports and Shipping Management.
In addition, the School of Management launched six red-themed routes on its official WeChat account as a guidebook for students to visit Shenzhen's historic sites and experience red culture.
The Guanlong Academy of Shenzhen Polytechnic organized a table tennis competition for students to spice up their holidays. The academy also invited students to share their favorite red-themed books and exchange ideas.
(Yang Mei)