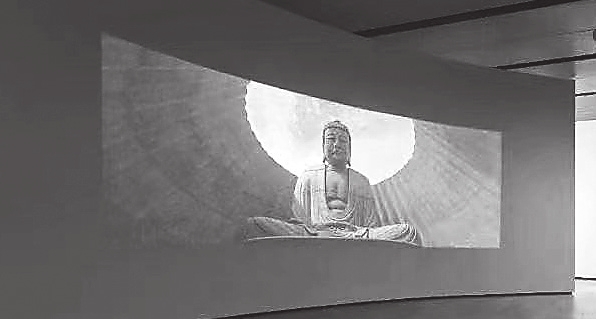 Architectural drawings and models of Japanese architect Tadao Ando, winner of architecture's highest honor Pritzker Prize, are being exhibited at MixC World.
A large green apple designed by Ando is also in place at the "Ando Box" exhibition as a symbol of youth. "We all have youth and we can live long if we have a young mind," said Ando. "The green apple represents the power in our mind, and the hope."
The 80-year-old self-taught architect is the master behind some of the world's most recognizable buildings, including the Church of Light in Osaka and the Church on the Water in Hokkaido.
Ando was trained as a boxer when he was young. While on a high school trip to Tokyo, he stumbled across Frank Lloyd Wright's Imperial Hotel and was instantly struck by the power of architecture. Less than two years after graduating from high school, he ended his boxing career to pursue architecture.
Ando studied drawing and interior design in night school courses before traveling to experience the architectural masterpieces of architects like Ludwig Mies van der Rohe, Louis Kahn and Le Corbusier. Though never formally taught as an architect, Ando returned to Osaka in 1968 and established Tadao Ando Architects and Associates.
He initially worked on small private houses, in which the architectural influences of his travels became visible. Works by Kahn and the geometric simplicity of Bauhaus characterized the clear signature of Ando's designs. Light and shade are usually the only design elements of his buildings, which always incorporate nature into the concept. This minimalism has become Ando's trademark and earned him the coveted Pritzker Prize in 1995. Like his great role model, Le Corbusier, Ando prefers to work with fine exposed concrete to create shelters that protect against urban chaos.
Ando also designed numerous museums around the world, including the He Art Museum in Shunde, Foshan City, Guangdong Province. The museum is a co-organizer of the current Shenzhen exhibition.
Dates: Until Nov. 28
Tickets: 76 yuan per person, 112 yuan for two persons
Venue: 4/F, North Area, MixC World, Nanshan District (南山区深圳万象天地北区四楼)
Metro: Line 1 to Hi-Tech Park Station (高新园站), Exit A
(SD News)