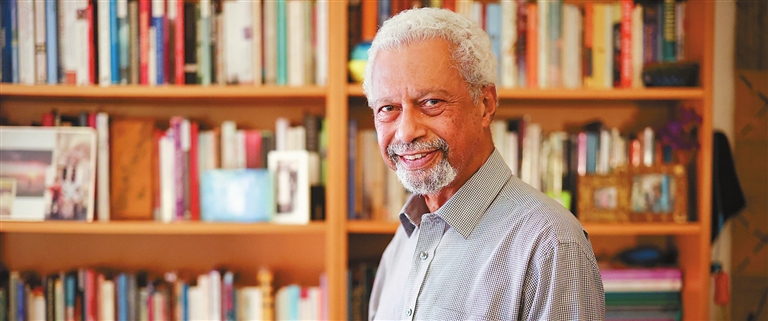 LAST week, the Swedish Academy awarded the 2021 Nobel Prize in Literature to novelist Abdulrazak Gurnah for his "uncompromising and compassionate penetration of the effects of colonialism and the fate of the refugee in the gulf between cultures and continents."
At 72, Gurnah is the first Black writer to receive the prize since Toni Morrison in 1993. For many observers, his win is a progressive victory as the Academy has historically favored white, male European writers. His best-known novel, "Paradise," which was highlighted by the Nobel Prize Committee, was also shortlisted for the Booker Prize, England's highest honor for works of fiction.
"The thing that motivated the whole experience of writing for me was the idea of losing your place in the world," Gurnah said in an interview with The New York Times.
Born in 1948 in Zanzibar, an archipelago that is now part of present-day Tanzania, Gurnah never considered a career in writing. At the age of 18, an uprising forced Gurnah to move to the U.K. While coping with the stress of being a poor and homesick immigrant, he began writing about his home in his diary. A native speaker of Swahili, Gurnah chose to write in English, his second language, and his writings grew longer and more elaborate over time.
Gurnah's win is contrasted by his relative obscurity as a writer. As noted by Alex Shephard in the New Republic, Gurnah's novels are largely unknown outside of the U.K. and aren't particularly well-known inside of it either. Prior to the announcement, his books sold only 3,000 copies in the U.S., according to publishing industry observer Jane Friedman.
In his works, Gurnah explores themes of colonialism and its legacy, migration, and alienation. His writing is heavily influenced by his experience growing up on the culturally and ethnically diverse Zanzibar island, a cosmopolitan society shaped by multiple colonial powers. In 1994, Gurnah published his first novel, "Memory of Departure," a coming-of-age story which evokes exotic sights, sounds and landscapes of coastal East Africa to tell the story of the spiritual rebirth of Hassan Omar, a sensitive 15-year-old boy.
In "Paradise," a young Tanzanian boy named Yusuf is pawned by his father to a merchant he owns debt to. The boy travels with the merchant's caravan across the continent and his personal journey intertwines with the greater historic backdrop of German colonialism in East Africa. Through the eyes of the 12-year-old boy, Gurnah gives an African perspective which has largely drowned out in the waves of European colonialism that swept the continent.
"Gurnah's itinerant characters find themselves in a hiatus between cultures and continents, between a life that was and a life emerging," said Anders Olsson, chairman of the Nobel Committee during the announcement of the literature laureate.
The predicament of refugees portrayed in Gurnah's works find an echo in today's world as refugee crises have become increasingly pronounced in recent years. He doesn't think the divisions between cultures are "insurmountable." In a telephone interview with the Swedish Academy, Gurnah pointed out that while people moving from Africa to Europe is a new phenomenon, Europeans moving into the world has taken place for centuries and is "nothing new."
For Gurnah, European countries' reluctance to accept refugees, particularly those of African and Arabic descent, is "a kind of miserliness, as if there isn't enough to go around." He calls for Europe to have compassion for refugees, rather than blocking them out.
"You're not just taking people in as if they're poverty-stricken nothings. Think of it as you're first providing succor to people who are in need, but also people who can contribute something."
(SD-Agencies)